Curl BC, along with our sport and government partners, recognizes the need for all sport governing bodies to play a stronger role in protecting athletes, coaches, officials, administrators and support staff, especially youth, from harassment and abuse.
We are dedicating resources to align with the national Safe Sport movement and invite our sport partners to collaborate with us to ensure a cultural change for success.
We support:
Training and access to education to identify risks and recognize abuse, harassment and discrimination for all sport participants;
System-wide policy and procedures to address and effectively remedy any violations swiftly through appropriate and unbiased measures;
A safe space for sport participants to report, address questions and concerns; and,
Access to appropriate support for those who have been harmed and/or affected.
It is our hope that we will be able to work with our members to ensure that our policy and procedures are adaptable and enforceable at all levels. So we will be engaging with you over the next weeks and months on what steps can be taken to make Safe Sport effective.
Responsible Coaching Movement
The three areas of focus for the Responsible Coaching Movement Include:
Rule of 2
Ethics Training
Background Screening
There is also already valuable information on the topic of Safe Sport in the Responsible Coaching Movement pages on the Coaching Association of Canada website at http://coach.ca/responsible-coaching-movement-s17179.
Respect In Sport
As part of the Responsible Coaching Movement (RCM), Curl BC is pleased to be able to offer our coaches, instructors, leaders and parents access to respect and ethics training through the online training program "Respect in Sport".
Clubs and centres are encouraged to promote this online training among their youth development program volunteers.
The goal of Respect in Sport is to train Curl BC's youth leaders to recognize, understand and respond to issues of bullying, abuse, harassment and discrimination. By taking this training, volunteers will be helping to create a safe, healthy and positive environment for our youth athletes.
One of the modules is geared towards coaches, instructors and leaders, while the second module is geared towards parents.
Certified competition coaches can earn Professional Development points for completing the coach training, which costs $30.
If you have any questions about this training opportunity, please contact Kimberly Dennis at kdennis@curlbc.ca or call 604-333-3619.
Resources
Rule of 2 Infographic
Downloadable: Rule of two infographic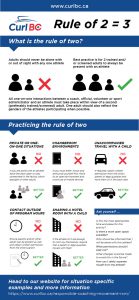 Process Pathways – Helpline and investigation unit