Long Term Curler Development Model
The Long-Term Curler Development (LTCD) Model reflects the fact that curlers can the sport at different points in their life.
Download a PDF of the LTCD model.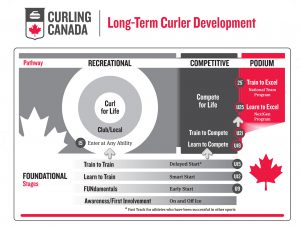 The above model is an updated version of the Long-Term Athlete Development Model that was first developed by Curling Canada in 2008. Since then much has been learned about how curlers move from learners to more advanced curlers.
The new Long-Term Curler Development model recognizes there are three pathways for curlers – Recreational, Competitive and Podium.
It reflects the fact that many curlers remain "Competitive for Life" and may transition between pathways multiple times in life.
The LTCD Model clearly shows that the pathway for Recreational is much bigger, making the model relevant to all curlers, not just Competitive and Podium pathway athletes.
What is critical to the whole framework is the Foundational Stages that hold up the entire system – the Foundational Stages will "feed youth" to each of the three pathways and help to properly introduce newcomers to the sport at what ever stage in their life they begin Curling.
Understanding the LTCD Model and Guide will allow member facilities, coaches, parents and other stake holders to effectively provide curlers with the best possible support at each stage of their development, and allow for transition from Podium back to Competitive Pathways or from Competitive back to Recreational.  The LTCD  guide below will also inform both athletes and parents about key developmental concepts and practices they should be learning, retaining and performing at each stage in the development pathway .
This information can be found below in the updated version of Curling Canada's Long Term Curler Development Guide:
Download a PDF of the LTCD Guide
The ultimate goal is to create a world class system to create world class curlers – in whatever path they choose.
Curling For Life
BC Long-Term Athlete Development Model
This model integrates programs and activities offered by Curl BC and it's members with Curling Canada's LTCD model above.