The Business of Curling Program was developed and designed by Curling Canada. Its purpose is to help curling centres understand the business they are in. Over the past decade, curling centres have experienced a variety of problems when trying to adapt to a constantly changing environment. Meeting the challenge of survival in the marketplace has prompted them to adopt selected management tools from the private sector. These tools are helping them make a success of their facility and their programs.
Curl BC is pleased to work with Curling Canada in delivering Phase 1 and Phase 2 of the Business of Curling Program.
Anyone with any questions about Business of Curling in BC should contact Curl BC Member Services Manager Kim Dennis at kdennis@curlbc.ca.
2021 Business of Curling webinar series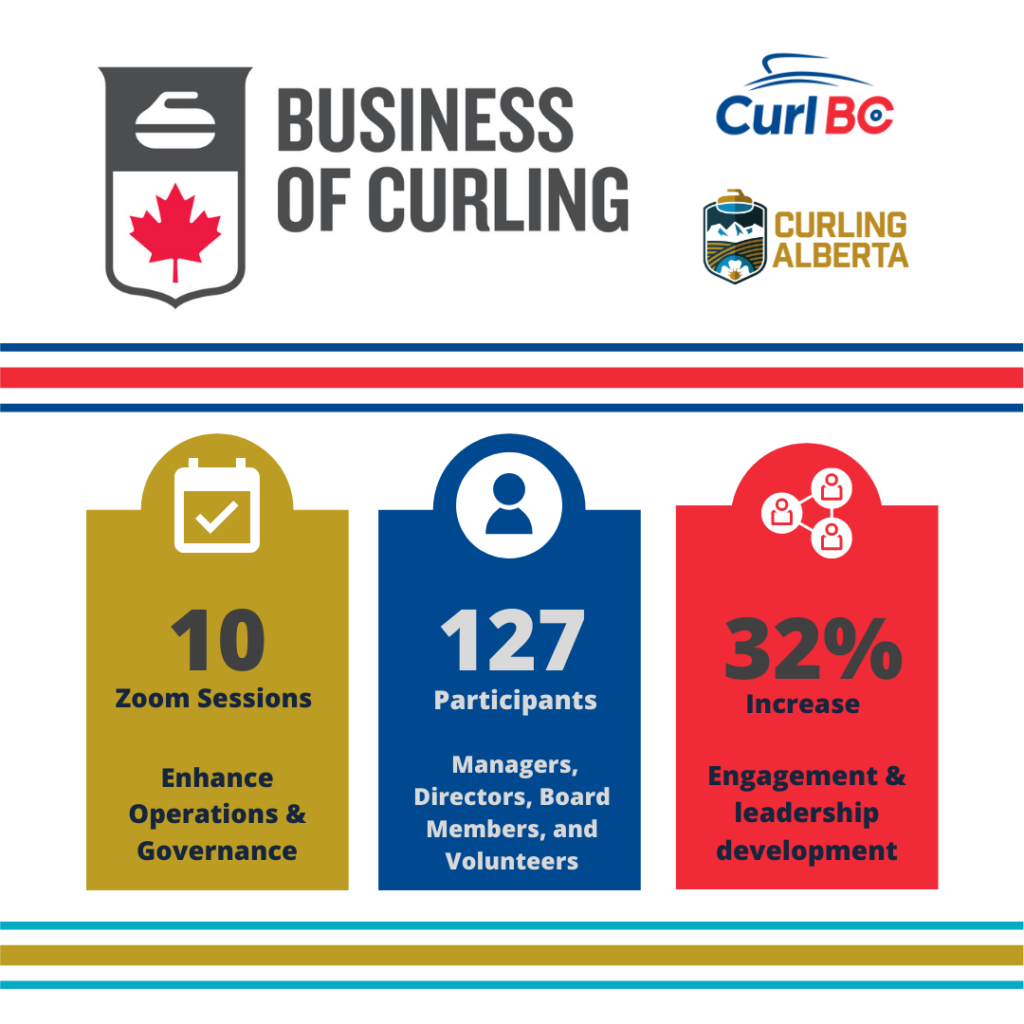 Curl BC and Curing Alberta successfully delivered 10 Business of Curling Webinars during May & June of 2021.
REGISTRATION
Is closed for the May & June 2021 sessions.
Clubs may contact Kim Dennis and to pay the $25 Member Facility fee to access the webinar recordings and resource folder.
2021 BOC TOpics
Social Media Basics- Presented by Rebecca Connop-Price

offer curling clubs guidance on how to make sure their social media strategy helps them attract new customers, engage with existing members and showcase their club in the community

Simplify Online Bookings & Reservations- Presented by Patrick Prade

Learn about Acuity Scheduling which, once set up, can simplify and automate your bookings and help you save time and get new customers.

Membership Recruitment

Join Daniel Bubola from Calgary Curling Club, Mike Libbus from Okotoks Curling Club, and Patrick Prade from Delta Thistle Curling Club as they share their membership recruitment strategies. After hearing their stories we will give participants an opportunity to ask the panelists questions

Social Media Marketing- Presented by Alex Zable from Sway Marketing

She will talk about the various platforms curling clubs can use and will be discussing how to create a strategy for effective use.

Grant Writing Boot Camp

Learn strategies to ensure your club has the tools to be successful with your grant applications.

Capital Project Planning

Parksville Curling Club's Ross Renwick ("Big Chill" Plant Replacement Project) and Chilliwack Curling Club's Bruce Renwick ("Building a New Facility) will share their experineces and best practices on their clubs recent projects. The webinar will help you learn to plan, fund and involve the community in your project.

Ammonia Safety Awareness Program

Presented by Technical Safety BC

Risk Management

Risk management has always been an important part of running an operation, but the Covid-19 pandemic has made that even more apparent. In this session Amy Nixon, who is a board member with Curling Canada, will go through the ways that your clubs can plan for the future and take steps to mitigate against the risks that you face.

 Board Recruitment and Succession Planning

Curl BC and Curling Alberta have partnered with Vantage Point to bring you a session on recruiting for your board and planning for succession. Vantage Point brings a wealth of experience helping non-profit organizations to become more effective, efficient and accountable.

Divesity, Equity, and Inclusion

Brittany Tran will lead this informative session. Tran is a competitive curler and has been curling for 22 years. Over the past year Tran has joined the Curling Canada Diversity and Inclusion Panel and is the Chair of the Curling Alberta Diversity and Inclusion Task Force where she aims to help make an impact and bring positive change to make the sport more accessible and inclusive.
The Business of Curling Symposium (Phase 1)
The Business of Curling Symposium is a professional development and networking conference for representatives of curling clubs within BC and elsewhere. Included in the registration fee(s) are meals, conference package & resource material.
The next Business of Curling Symposium is scheduled for summer 2021, but Curl BC offers professional development on an as-needed basis or when there are specific requests. Contact Kim Dennis at kdennis@curlbc.ca if your club wants to get involved.
The Symposium is an ideal setting to:
share ideas and network with other curling centre managers, volunteers, members and board of director representatives
find out the newest trends in curling centre management, program deliverables, communication styles and more
We asked past participants: Would you recommend that your Curl Centre/Club participate in future Business of Curling Symposiums?
"Absolutely. I wish they were all here."
"Well worth the cost. Many valuable ideas that can be implemented immediately for little or no cost to staff and resources."
Business of Curling Development Workshops (Phase 2)
Phase 2 is available throughout the year and is separate from the Symposium.
Two Day Strategic Planning Workshop for 1-2 Curling Centres and their full Board of Directors
The entire Board must be available and committed to the 2 day's in order to schedule the Phase 2 Workshop.
The Board of Directors must be committed to implementing the plan after the workshop.
Workshop Fees are $400 per club
The workshop consists of making your road map to success!
The Board is guided through the planning process by our facilitator(s)
Envisioning where they want their centre to be 3-4 years down the road.
Analyze the current situation
Understand trends affecting the business.
Describe the steps or strategies for implementation
This part of Business of Curling is enjoying a good return on investment, as it allows our clubs to look more closely at their operation. It asks them to find out what their customers want; and, most importantly, it hands them a written plan they can follow to improve their business without taxing their volunteers.
The following testimonials highlight the benefits of this second phase of the Business of Curling Program.
"Exciting to see how quickly a 'draft' [strategic] plan could come together.
The format or agenda for the workshop was easy to follow and flowed nicely."
~Participant 2011 Bunisess of Curling Phase 2 (club manager)
"Awakening creativity to make changes" ~Participant 2011 Business of Curling Phase 2
"..info that forces people to think about the things they do in a different way" ~Participant 2011 Business of Curling Phase 2
Request a Business of Curling Phase 2 Session
Contact Jack Bowman, former Canadian Curling Association Chariman, and Phase 2 Business of Curling Facilitator. jackbow@telus.net
Go ahead and Invest in Your Club!
Business of Curling symposium and workshop costs are subsidized to members.
Forward Foundations Workshops
Workshop #1
Topic: Culture & Engagement- The secret to attracting and retaining great people.
Date: January 27th, 2020
Time: 10:30am-1:30pm
Location: 3713 Kensington Ave, Burnaby BC
Facilitator: Vantage Point
Course Fee: $25.00 Per Person (Curl BC Member)
Register: Forward Foundations #1
Topic:  Women & Leadership: Influencing Change
Date: TBD- End February/ Early March
Time:
Location: 700 Victoria St, Kamloops BC
Facilitator: CAAWS

For More Information Visit: CAAWS

Course Fees:

$25.00 Per Person (Curl BC Member)
$50.00 Per Person (Non-Member)

Register: Forward Foundations #2- POSTPONED TO LATER DATE