Conflict Resolution
Curl BC believes everyone has the right to enjoy the sport, regardless of their level of participation. As such, Curl BC encourages all individuals to communicate openly, collaboratively, and use problem solving techniques to resolve differences in opinion. Resolving conflict at an early stage may prevent a situaiton from escalating and resulting in a formal complaint.
Conflict Resolution Resources:
Reporting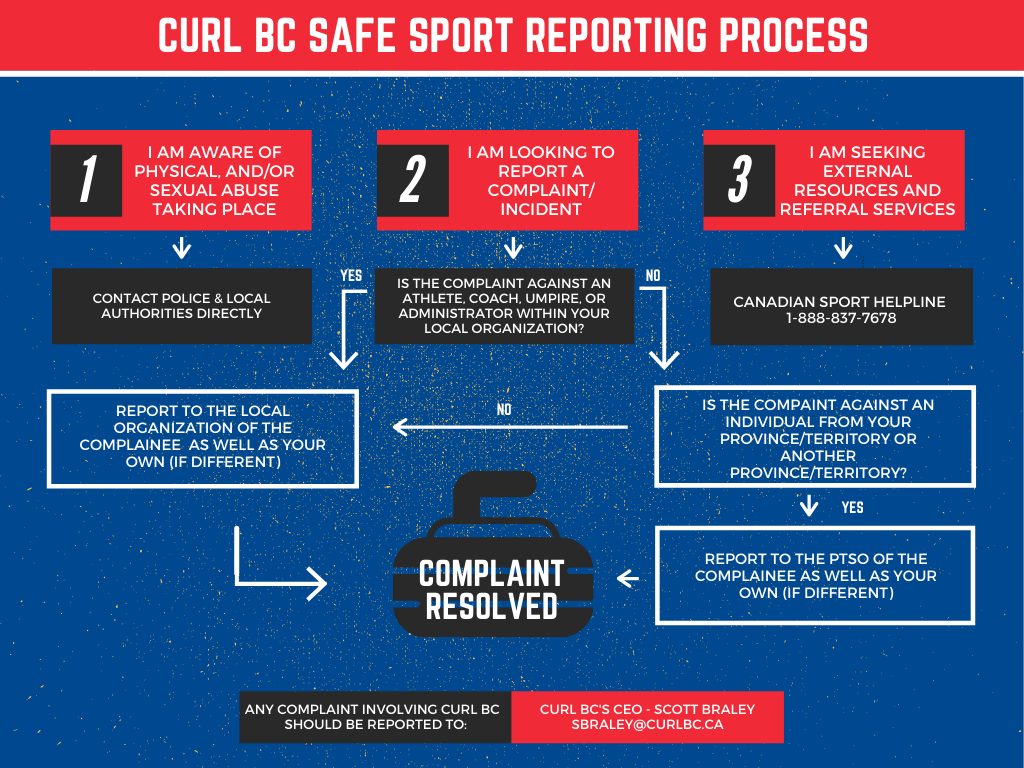 Complaints & Discipline
All Curl BC stakeholders are expected to fulfill responsibilities and obligations including, but not limited to, complying with Curl BC's policy's, bylaws, rules and regulations, code of conducts and ethics. Non-compliance may result in sanctions pursuant to the organizations Complaints and Discipline Policy.
For more information on Discipline/Complaints and the policy please contact Scott Braley at sbraley@curlbc.ca
Other Resources & Services
viaSport
Addressing Maltreatment: click here
Curling Canada
Curling Canada is committed to reviewing and updating these policies as often as necessary in order to ensure that they consistently satisfy the highest standards.
Child Protection Services of BC
If you think a child or youth (under 19 years of age) is being abused or neglected call 1-800-663-9122 at any time of the day or night.
Child protection services in BC are inteded to safeguard children from harm. Where there is reason to believe a child has been abused or neglected, or is otherwise in need of pretection, child protection social workers have the delgated authority to investigate and take appropriate action to ensure that child's safety.
For more information visit: Child Protection Services in BC
To find the nearest children and family services office visit: Child and Family Services Search
B.C Helpline for Children
A confidential toll-free phone line for children and youth wanting to talk to someone.
VictimLink BC
Is a toll-free, confidential, multilingual telephone and online service available across B.C. 24 hours a day, 7 days a week which provides information and referral services to all victims of crime and immediate crisis support to victims of family and sexual violence
Resilience BC:
Anti-Racism Network provides information about how to report incidences of racism and hate crimes if you are a victim or witness such incidences.
Canadian Sport Helpline
Anonymous, Confidential, Independent, Bilingual. Available 7 days a week 8:00am-8:00pm (EST)