Note for the 2020-21 season: Partial Curl BC and Curling Canada affiliation fees will only be refunded if the club has closed for the season due to COVID (either voluntarily, or due to a public/regional health order).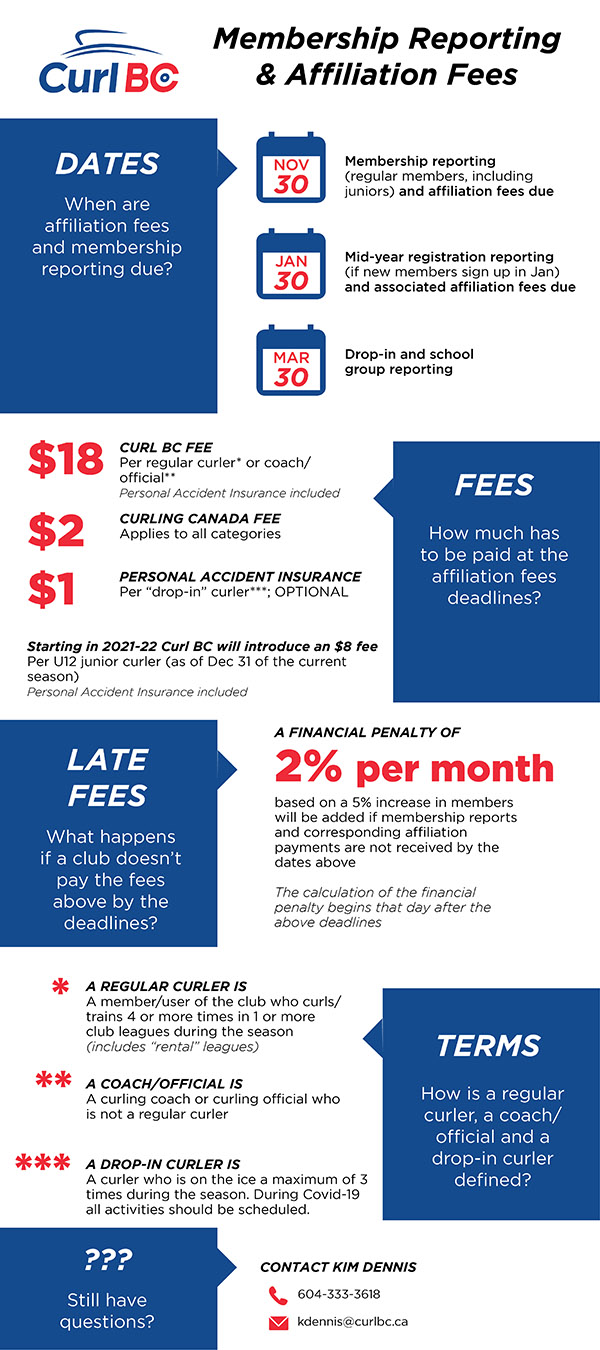 You may submit your curling centre membership form in whatever format you collect this information.  This can be as a spreadsheet in a database your curling centre is using, or as an Excel spreadsheet created by your curling centre, or as a Word document, or even, as copies of the old fashioned hand written membership forms your members fill out each year.  You may also choose to use the Curl BC formatted forms below.
You can email your membership reports to Kim Dennis at kdennis@curlbc.ca.  If you have any questions about what your membership reporting requirements are, please email Kim or call her at 604-333-3618 or toll free at 1-800-667-2875 .
Individuals Reporting Form: Record names of all Regular Curlers and Drop-In Curlers who are part of your curling centre membership, including children, youth, adults, seniors and masters all on one list. Do not divide by leagues. Due Annually November 30. Mid-season registrations due annually on January 30. Drop-In Curlers reporting due annually March 30. Updated form TBA. Link to Individual Reporting Form (Excel). 
Regular Curler: A member/user of the club who curls/trains four or more times in one or more club leagues during the season (includes "rental" leagues).
Coach/Official: A curling coach or curling official who is not a regular curler
Drop-In Curler: A curler who is on the ice a maximum of three times during the season.
Private Rental/School Group Reporting Form: Record private rental groups and school groups who participate in a Try Curling or Learn to Curl school program at your club. Due annually March 30. Link to form (Excel)
Please contact Kim Dennis at kdennis@curlbc.ca or 604-333-3620 if you have any questions about the affiliation fees, reporting deadlines, or membership reporting requirements.
Interested in getting your club going with online registration? Curling I/O is a registration system designed by Curling Canada and will make registration and reporting more streamlined. Click here to find out more.