Wark sits at top of standings
January 31, 2020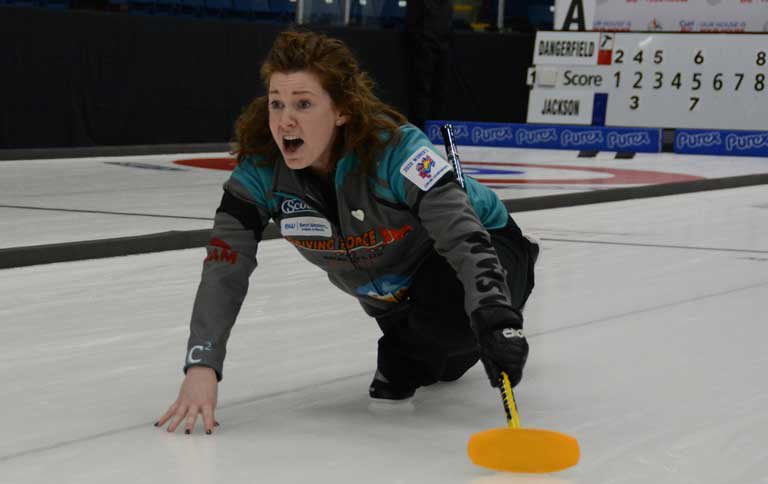 The final round robin play at the 2020 BC Scotties is complete and the playoff teams are known.
Defending champions Team Wark finished at the top of the standings with a 6-1 record. The team of skip Sarah Wark, third Kristen Pilote, second Carley Sandwith and lead Jen Rusnell, as well as coach Rick Fewster, now get to play in the Page 1-2 playoffs against Team Brown, with the winner getting a bye to the final. The loser of the 1-2 game plays the winner of the Page 3-4 game in the semis on Saturday evening.
Wark said: "Our goal coming into the week was the make the playoffs so being in the 1, 2 game is a bonus. It puts us into a position where we almost get two chance to make that final game. Hopefully we can pull it off first try."
The 2020 BC Men's Curling Championship, presented by Nufloors – Penticton and the 2020 Scotties BC Women's Curling Championship, presented by Best Western, is taking place at Cranbrook's Western Financial Place with finals set for Sunday. Individual draw tickets for the weekend are available from $15. 
Team Daniels from Delta Thistle were the third place finishers and Team Richards from Kelowna and Victoria were the fourth place finishers.
In men's play, the final three playoff positions are still unknown. Tonight's matchup of Team Montgomery of Victoria versus Team Longworth of Vernon will determine the men's Page 1-2 playoffs. Tomorrow morning will determine the final two Page 3-4 qualifiers.
The local crowd in Cranbrook will be noisy tonight rooting for Team Medford, whose skip hails from the city. Chris Medford's rink that also features third Steve Tersmette, second Mitch Young and lead Jeff Langin, plays against Team Geall in the C event starting at 7 p.m. Mountain Time.
Medford said he was enjoying the local support. He said: "It's a pleasure to be out here and hearing your names being called and chanted and your nicknames. It doesn't put pressure on, it's more enthusiasm."
Defending champions Team Cotter, from Vernon and Kelowna curling clubs, with skip Jim Cotter, third Steve Laycock, second Andrew Nerpin and lead Rick Sawatsky have already earned the first qualifier spot.
There is plenty more action to catch this evening and tomorrow and Sunday at Western Financial Place.
The men's page 1-2 game, the women's semi-finals and men's and women's finals will be broadcast on CHEK and streamed at cbc.ca/sports/. The broadcast schedule is posted at https://www.curlbc.ca/live-streaming-broadcast-schedule/.
Ticket and event information for both the men's and women's championships is available at https://www.curlbc.ca/cranbrook-2020/.
Subscribe to our newsletter
Receive the latest news updates, tournaments, programs, services and discounts.