Teams earn championship berths
December 16, 2019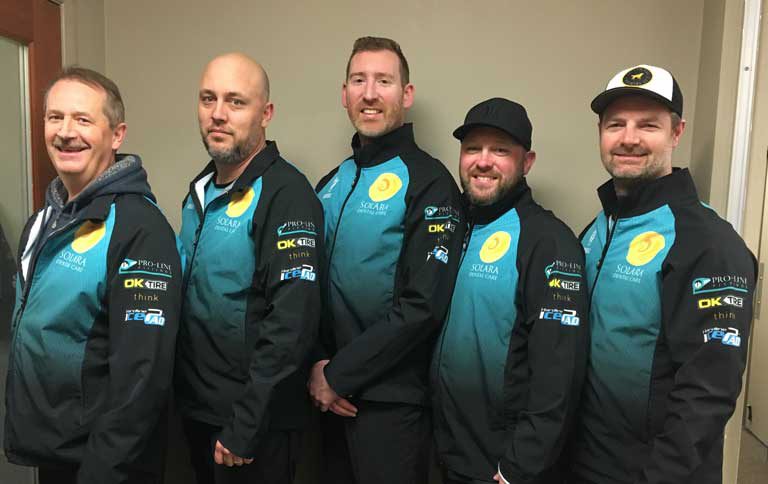 Eleven men's teams,  two women's teams and two U18 teams have earned their berths for 2020 BC championships.
The teams were successful at regional playdowns that took place in Abbotsford, Lake Cowichan, Kamloops and Kimberley from Dec. 13-15. The men's and women's teams have all booked their tickets to the combined men's and women's championships taking place at Western Financial Place in Cranbrook from Jan. 28 to Feb. 2, 2020.
The teams to have booked their ticket to the BC Men's Championship from the Lower Mainland were Team Joanisse (Royal City, Golden Ears Winter Club), Team Dennis (Royal City/Salmon Arm) and Team Thompson (Vancouver).
The Cranbrook team to have qualified – and the team that will carry the hopes of the home crowd – will be Team Medford. The other Kootenays team to have won a berth is Team Salviulo (Castlegar).
The teams representing the Okanagan will be Team Richard (Kelowna), Team Longworth (Vernon) and Team Olsen (Kamloops).
The Vancouver Island teams on the roster all curl at Victoria Curling Club. They are Team Dangerfield, Team Montgomery and Team Jackson.
The teams that have already qualified include defending champions Team Cotter, CTRS points winners Team Tardi and BC Curling Tour winners Team Wenzek and Team Geall.
The two women's teams to have booked their tickets to the 2020 Scotties BC Women's Curling Championship, presented by Best Western, were Team Pewarchuk from Victoria and Team Slattery from Vernon/Kelowna. The open playdown took place at Abbotsford Curling Club and wrapped up yesterday (Dec. 15).
The teams that have already qualified include defending champions Team Wark, CTRS points winners Team Brown and BC Curling Tour winners Team Thompson and Team Richards.
Ticket and event information for both the men's and women's championships is available at https://www.curlbc.ca/cranbrook-2020/.
The two U18 teams to have earned their spots for the U18 championships were Team Tao (Richmond/Vancouver/Port Moody) and Team Buchy (Kimberley/Kelowna/Delta Thistle). The teams were part of an open playdown at Kamloops Curling Club.  The remaining regional qualification events will take place in Feburary and the championships will take place from March 17-22 in Parksville.
For all remaining qualification events and for scores during the round robin (women) and triple knockout rounds (men) of the championships visit https://playdowns.curlbc.ca. The semi-finals and finals of the women's and men's events will be broadcast on CHEK and streamed at cbc.ca/sports/.
TEAM ROSTERS FOR TEAMS THAT QUALIFIED THIS WEEKEND:
Men's teams:
Vancouver Island
Dangerfield
Victoria
Skip: Neil Dangerfield
Third: Denis Sutton
Second: Darren Boden
Lead: Glen Allen
Montgomery
Victoria
Skip: Jason Montgomery
Third: Chris Baier
Second: Miles Craig
Lead: Will Duggan
Jackson
Victoria
Skip: Glen Jackson
Third: Andrew Komlodi
Second: Jason Clarke
Lead: Joel Cave
Kootenays
Medford
Cranbrook
Skip: Chris Medford
Third: Steve Tersmette
Second: Mitch Young
Lead: Jeff Langin
Salviulo
Castlegar
Skip: Nando Salviulo
Third: Devin Anderson
Second: Jamie Ingram
Lead: Reece Whitehead
Okanagan
Richard
Kelowna
Skip: Jeff Richard
Third: Tyler Klymchuck
Second: Corey Chester
Lead: Rhys Gamache
Longworth
Vernon
Skip: Mark Longworth
Third: Michael Longworth
Second: Rob Nobert
Lead: Cam Weir
Olsen
Kamloops
Skip: Brad Thompson
Third: Grant Olsen (skip)
Second: Trevor Miyahara
Lead: Brent Yamada
Lower Mainland
Joanisse
Royal City/GEWC
Skip: Dean Joanisse
Third: Andrew Bilesky
Second: Steve Kopf
Lead: Aaron Watson
Fifth: Steve Petryk
Dennis
Royal City/Salmon Arm
Skip: Rob Dennis
Third: Doug Kilborn
Second: Brad Blackwell
Lead: Rick Miller
Coach: Greg McAulay
Thompson
Vancouver
Skip: Aaron Thompson
Third: Jack Holmes
Second: Derek Smith
Lead: Scott Robertson
Women's teams:
Pewarchuk
Victoria
Skip: Dailene Pewarchuk
Third: Taylor Reese-Hansen
Second: Ashley Sanderson
Lead: Sydney Brilz
Coach: Todd Troyer
Slattery
Vernon/Kelowna
Fourth: Alyssa Kyllo
Third: Sheila Cowan
Second: Shaina McGiverin
Lead/Skip: Kim Slattery
U18 teams:
Tao
Richmond/Vancouver/Port Moody
Skip: Johnson Tao
Third: Toby Mills
Second: Connor Kent
Lead: Michael Nunn
Coach: Vic Shimizu
Buchy
Kimberley/Kelowna/Delta Thistle
Skip: Kaila Buchy
Third: Katelyn McGillivray
Second: Elizabeth Bowles
Lead: Sasha Wilson
Coach: Tom Buchy
Subscribe to our newsletter
Receive the latest news updates, tournaments, programs, services and discounts.