Return to winning ways
March 09, 2020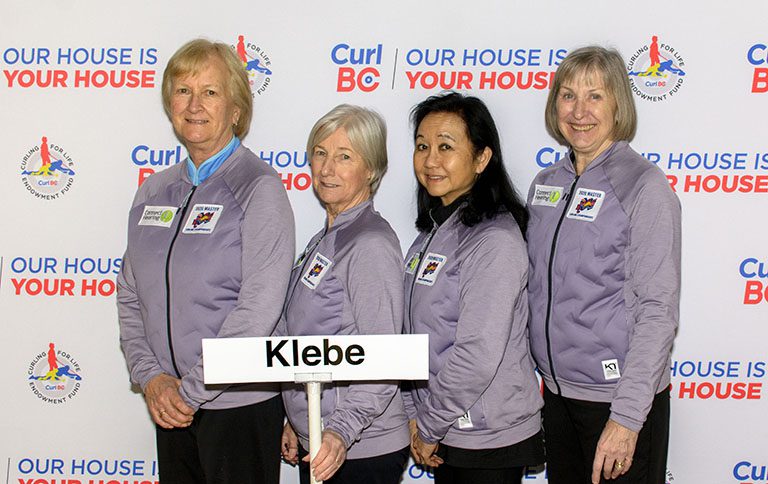 There were some familiar faces on the podium at the 2020 Connect Hearing BC Masters Curling Championships that wrapped up yesterday.
The defending women's champions, Team Klebe of Chilliwack/Richmond/Cloverdale/Langley, won gold for the second year in a row. They didn't finish with the best record in round robin play but dominated in playoffs, beating Team Erdos 7-4 and then Team House 7-3.
Skip Janet Klebe is no stranger to the podium at the BC championships, having won last year's event in Nanaimo. She was also the 2017 winner, and took gold at the BC seniors in 2006. The skip also has two silver medals under her belt at nationals – last year at national masters and in 2006 at senior nationals. She was also on the 2012 BC Mixed team that won gold. Her team, which has three of the same curlers as last year, features third Kerri Miller, second Laurie Shimizu, lead Donna Christian and coach Vic Shimizu.
In men's play, Craig Lepine took gold, with a team that features former Brier winner and Olympian Neil Houston at third. Lepine was the 2018 senior provincial winner, 2018 master provincial winner and Canadian silver medalist. He also won the BC Senior title in 2016, 2013 and 2009.  His team from Langley/Royal City/Penticton/Cloverdale was rounded out by second Craig McLeod and lead Kevin Jeannotte. They were coached by Craig's wife Karen Lepine.
Team Klebe and Team Lepine will travel to nationals in Rothesay and Saint John, New Brunswick, from Mar. 30 to Apr. 5.
Craig Lepine said his team's goal at nationals was to make the playoffs and then see what happens but it wasn't going to be easy. "There's some really good teams at nationals. (Al) Hackner is going to be there and so is (Mickey) Pendergast who went undefeated last year so it's a tough field. But our team has a lot of experience so we'll see what happens."
Janet Klebe said: "Although we always have a lot of fun out on the ice competing, I honestly can say I'm not going to the Canadians without the hope of bringing home the gold! We came up just short last year. We will be there representing BC with pride and playing our best to achieve that goal."
The provincial event was originally slated for Lake Cowichan and Duncan, but some draws had to be moved to Kerry Park Curling Centre in Mill Bay. The move was because of an ice plant failure at the Glen Harper Curling Centre in Duncan.
Melissa Sim, the event manager for Curl BC, said that the organizing committee, the sponsors, the volunteers, the ice makers and the athletes were all very accommodating of the many changes that had to be made. "We are so grateful that curlers at Kerry Park were able to rearrange their schedules to accommodate some of our Masters draws. The ad hoc theme of the event became "embrace the chaos" as the plant failure at Duncan happened the night before the first games were due to be played and which necessitated changes and updates throughout the first couple of days of the event.
"A big thank you needs to go to the host committee chair Linda Blatchford from Cowichan Rocks who was an absolute rock star all week and who made the event fun for everyone."
In women's play Team House, from Royal City, were awarded the silver medals. The team features skip Cindy House, third Carol McFadden, second Myra Antaya and lead Terry Townsend-Jones. Team Erdos from Nanaimo/Qualicum was awarded the bronze medals. The team featured Debbie Erdos, third Teri Palynchuk (replacing Heather Lindsay), second Peggy Aikman and lead Carol Dorman.
In men's play Team Craig, from Victoria/Kerry Park were awarded the silver medals. The team featured the reigning senior men's champion Wes Craig and was rounded out by third Ron Schmidt, second Tony Anslow and lead Blair Cusack. Team vanYzerloo from Castlegar/Trail/Nelson were awarded the bronze medals. The team features skip Bill vanYzerloo, third Myron Nichol, second Garry Beaudry and lead Richard Faunt.
Richard Faunt was also the recipient of the event's inaugural sportsmanship award. The women's winner was Rita Araki from Team Gardner. The lead from Royal City Curling Club was given the Lorraine Gagnon Memorial Sportsmanship Award in memory of a masters curler who passed away in 2019.
The event featured the top eight 60+ men's teams and top eight 60+ women's teams in BC.
The schedule, rosters and scores were posted at http://bot.curlbc.ca//web/CompRR?compid=3201 for the women and http://bot.curlbc.ca//web/CompRR?compid=3200 for the men.
This is the second year in a row that title sponsor Connect Hearing has been involved with masters curling in BC.
Subscribe to our newsletter
Receive the latest news updates, tournaments, programs, services and discounts.