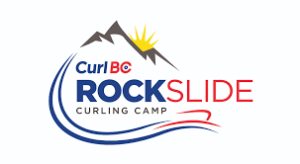 ROCKSLIDE CAMPS ARE BACK!
Rockslide Main Summer Camp (Ages 8-15). August 29 – September 1, 2023

– Aug 29 – 10:30 am – 5:30 pm (Early Drop off available)
– Aug 30 – 9:00 am – 4:00 pm
– Aug 31 – 9:00 am – 4:00 pm
– Sep 1 – 9:00 am – 12:00 pm
+Optional nightly social activities
Register HERE . Registration includes snacks, lunches, a shirt, and a water bottle.

Rockslide Excellence Pre-Season Camp (Ages 16+). August 30 – September 1, 2023


– Aug 30 – 10:00 am – 6:00 pm,
– Aug 31 – 10:00 am – 6:00 pm,
– Sep 1 – 9:00 am – 12:00 pm
– Register HERE . Registration includes snacks, water bottles, lunches and a water bottle.

Rockslide Mini (Ages 5-8, no experience necessary). August 29 – September 1

– 10:00 am -11:30 am daily. Register HERE . Registration includes snacks, shirt and a water bottle.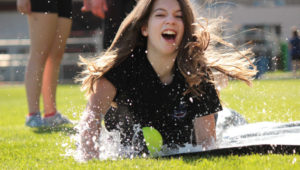 Where: All at the Chilliwack Curling Club (45550 Spadina Ave, Chilliwack, BC V2P 1V4)
From March 1  until only March 31 we will have early bird pricings.
Accommodation: arrangements TBD
Coach Counselor and Instructor Team: To be Announced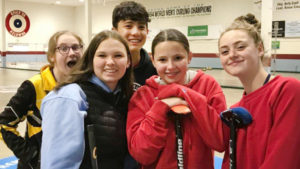 Presented by the Optimist Clubs of BC, This years Rockslide camps have options for ages 5  to 21 where young curlers and athletes can look forward to learning the latest in technical skill development, performance, and team dynamics. Attending a camp is a great opportunity for kids to work on their game under the guidance of BC's best coaches. The camps aren't just about curling, though—they're filled with fun, friendship, and team building. The Excellence camp will be more heavily weighted towards skill development and games but is open to any curler 16+. The mini camp is an intro to curling to get the young new curlers comfortable with the ice and have some fun in a safe, supportive environment.
What to expect
What you can expect from Rockslide:
On-ice and in-class sessions with BC's best coaches
Extra curricular activities and team building fun
Snacks and lunches are included
Camp clothing and resources
Lots of time on the ice
Optional Eeening social activites
Non curlers, new curlers and competitive curlers are welcome
Registration information
Early Bird: 2023 Pricing TBD
Regular Pricing: 2023 TBD
Registration includes:
Lunches
Snacks
Dinners
Camp Resources
Camp Shirt
Accommodation
Accommodation: While accommodation is the responsibility of the camper and their families, a block booking to a local hotel will be provided soon.
A coach's perspective
We spoke to coaches Dean Joanisse and Darryl Horne about what they think the camp can offer young curlers.
How many years have you been coaching?
Darryl: I've been coaching for many years; it has probably been about 35 years. I have been to all but one of the Rockslide camps (there have been five). I've also been involved with similar camps in Alberta.
Dean: I've coached a lot over the years and done a bunch of other instructional stuff as well. I helped out at camps when I was a teenager and did a handful of years at the Four Foot summer camps. This year will be my second time at Rockslide.
Why do you think young curlers should attend Rockslide?
Dean: It's the highlight of the summer and just the best experience. When the kids get there they will establish tons of friendships and relationships because there are all these people coming together with a shared interest.
Everyone has a really good time and it's suitable for everyone. It doesn't matter what level your experience is, you will enjoy it and when you leave you will have all these new friends. I had forgotten just how great the friendship part of it was until I went back and saw it again as an instructor. It's the fun and the friends that keep you coming back.
The camp is also good for courage and self-esteem because it is hard to know what to expect. Turning up at camp is a bit like the first day at school because it is a little intimidating when you arrive but soon everyone is enjoying themselves and having a great time.
Darryl: They have the opportunity to be exposed to great coaching and there's a wide range of coaches so they get lots of different perspectives.The most important thing is that they will have fun as there is no pressure to perform. They'll get to play games, take part in different activities and get to meet lots of other curlers. One of the real benefits is that it expands your BC curling circle as you get to meet new people from different areas. Last year there were some boys from a remote part of the Kootenays who were looking for some other curlers to create a team and they found some people in the same situation at Rockslide and now they have a team. There was another guy from the Interior who was moving to Vancouver Island for university and he met some people who he could curl with out there.
Rockslide has a high performance section too and that offers talented curlers the chance to improve in a competitive situation. Also, the camp's in a great location for parents as they can come to Kelowna, drop off the kids and then go and do other things like play golf or tour the vineyards.
What is your favourite Rockslide moment or memory?
Darryl: It's not a memory but what I really enjoy is the chance to work with kids who are keen, and then be able to work with them again in the future and build on what they learnt at camp.
Dean: There are too many great moments to remember. If I had to pick one it would be doing my first session at Rockslide as I hadn't been to a camp in six or seven years and I was feeling a bit apprehensive. I didn't know if my knowledge would be well received and I felt nervous so I shared that with the kids and then things went really well. It's also just great to be around people who want to learn and are passionate about the sport. It's pretty cool.
A camper's perspective
We spoke to Kylie Karoway who attended Rockslide with her new team. In her blog, she explains what she liked about it and why you should join her at camp this summer.
I first heard about Rockslide from my mom's friend as her son was going so she suggested that my mom send me and my brother to it as well. I had just put together a new team so they decided to go too so that we could see if we worked well
as a team.
Before I went to Rockslide, I was starting to lose my enthusiasm for curling and I wasn't sure if I wanted to keep curling but I had a great time at the camp. We did lots of different sorts of things when we were there. First of all we were put into groups depending on our skill level and I was in one of the lower level groups. Obviously, because it's a curling camp, we spent quite a bit of time on the ice curling. We had the chance to work with different coaches on certain parts of our game like delivery. I had been curling for about three years so I knew all of the basics but I wanted to improve and work on certain skills ,so it really helped to focus on these with the coaches.
We worked on other things off the ice as well. For example, we did a session on conditioning and keeping in shape in the off-season so that you don't get out there for your first game and feel like you'll pass out! We also had some talks on things like mental preparation and ways that you can read your team and know their strengths so that you can curl better together. We did some fun team-building activities too. For one of them we were in pairs and we had an egg which we had to throw back and forth without breaking it and then we did a bigger version of that with the whole group where it was a water balloon which we had throw and stop from bursting. Another cool task that we did in teams was trying to build the tallest structure we could out of marshmallows and wooden poles without it falling over.
My favourite thing that we did during the camp was a mini-sports day. We were put into different teams which were named after animals (I was a donkey!) and we had to do a big obstacle course which included things like throwing boccia balls into buckets, jumping over chairs and sliding through a soapy tarp whilst being sprayed with a hose. It was so much fun and a great way to get to know new people.
The atmosphere at the camp was great. It was just like hanging out with friends. Because people come from all over BC, and even from Alberta, I didn't know lots of people there but you spend 12-hours a day with your group so they feel like friends or family by the end of the week. I've kept in touch with about five or six new people who I met at the camp and we chat on Facebook so it's definitely a good way to meet new people.
I had a great time at Rockslide, it was really good fun and my curling definitely improved. It also rebuilt my passion for the sport and inspired me to keep curling. I can't wait to go to this year's camp.
Kylie's top 5 reasons to go to Rockslide
You get to meet lots of new people. There are campers from all over BC so you make friends who you would never normally have met.
You can work with lots of different coaches. Because there are so many coaches, there's a variety of coaching techniques and ways of teaching which makes a nice change and you learn new things.
It is great for team bonding. If you're part of a team, it's really fun to go together and get to know them better and find out how to work well together.
Your curling improves. During the camp you do so many different activities that help your game and you learn new tactics and techniques which are really useful. It's also a great introduction to the sport if you haven't done it before as it's like a tester trial. My cousin, who had never curled before, went to the camp last year and enjoyed it and he then curled for all of the last season.
 It will make you realise how awesome curling is. Going to Rockslide reinspired me and I rediscovered a new love of curling.
History of Rockslide
The first Rockslide was held in 2011 and brought 49 young curlers together! In 2012, 70 curlers worked with a great and professional coaching team to improve and fine tune their curling skills. In 2012, 69 curlers participate in the summer camp and in 2013, 73 curlers and 13 coaches and staff made for a fun and learning filled 3.5 days! In 2014, the camp also offered professional development for coaches. The coach camp expanded in 2015 and a bonspiel was added in 2016. The camp continues to grow and reach new participants.