Playoffs begin at Seniors
February 21, 2020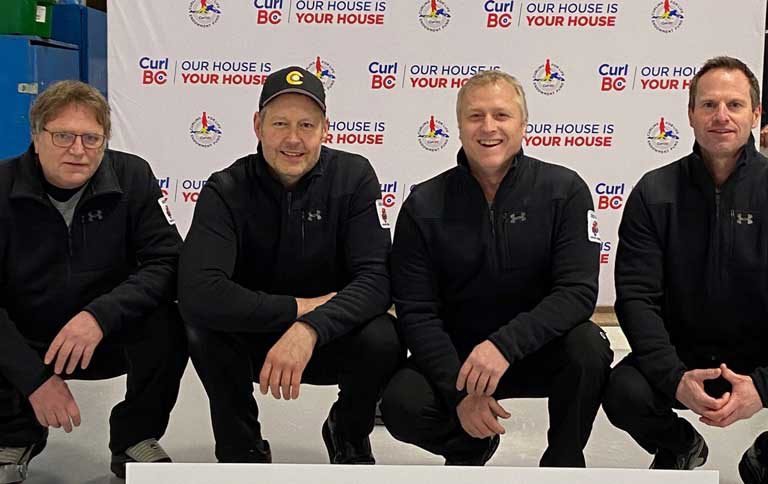 The round robin is complete and now the playoffs begin at the 2020 BC Senior Curling Championships in Vernon.
Team Mychaluk from Royal City and Parksville won the bye to the women's final on Sunday (Feb. 23). The team will face either Team Shantz or Team Richter, who face off in the semi finals tomorrow (Saturday) at 2pm.
The Shantz team from Parksville/Nanaimo/Comox Valley features skip Penny Shantz who won a gold medal at the 1988 Calgary Olympics when curling was a demonstration sport.
On the men's side, Team Craig from Nanaimo and Kerry Park has won a bye to the final on Sunday. The team will face either Team Wright or Team Pierce, who will also face off in semi finals happening tomorrow at 2pm.
Former Canadian and world champions Brent Pierce and Bryan Miki are part of the Pierce team representing Royal City. Pierce and Miki were both on the BC-based McAulay rink that won the Brier and world championship in 2000.
Follow the scores at http://playdowns.curlbc.ca.
The 2020 BC Senior Curling Championships, featured the top eight 50+ men's teams and top seven 50+ women's teams in BC.
The winning teams will travel to the Everest Canadian Seniors from Mar. 16-22 at the Portage Curling Club in Portage la Prairie, Man.
For the provincial event information visit https://www.curlbc.ca/vernon-2020/.
Full playoff team rosters:
MEN
Team Craig, Nanaimo/Kerry Park
Skip: Wes Craig
Third: Steve Waatainen
Second: Keith Clarke
Lead: Craig Burton
Team Wright, Kelowna/Comox Valley
Skip: Steve Wright
Third: Ron Schmidt
Second: Normand Cote
Lead: Shaun Everest
Team Pierce, Royal City
Skip: Brent Pierce
Third: Ken Maskiewich
Second: Darin Fenton
Lead: Bryan Miki
Fifth: Ross Graham
WOMEN
Team Mychaluk, Royal City/Parksville
Skip: Donna Mychaluk
Third: Victoria Murphy
Second: Shirley Wong
Lead: Janet Suter
Team Richter, Penticton/Kelowna
Skip: Marilou Richter
Third: Dawn Everest
Second: Cindy Curtain
Lead: Deirdre Riley
Team Shantz, Parksville/Nanaimo/Comox Valley
Skip: Penny Shantz
Third: Colleen Robson
Second: Debbie Erdos
Lead: Teri Palynchuk
Subscribe to our newsletter
Receive the latest news updates, tournaments, programs, services and discounts.