Defending champions return for finals
February 01, 2020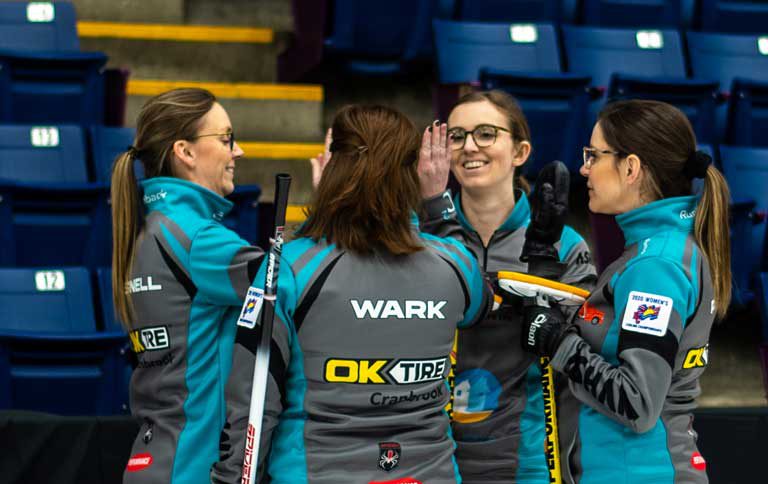 Both defending championship teams have won byes to the final after coming out on top in the Page playoffs on Saturday.
The 2020 BC Men's Curling Championship, presented by Nufloors – Penticton and the 2020 Scotties BC Women's Curling Championship, presented by Best Western, is taking place at Cranbrook's Western Financial Place with finals set for Sunday. Individual draw tickets for the weekend are available for $15. 
Defending BC Scotties champions Team Wark will face either Team Brown or Team Daniels in the finals tomorrow at 9 a.m. Pacific (10 a.m. MST). If they can repeat last year's performance, the Abbotsford team of skip Sarah Wark, third Kristen Pilote, second Carley Sandwith and lead Jen Rusnell, as well as coach Rick Fewster, will be pleased.
Sarah Wark said: "We had a great time last year. It was my first time (at the national Scotties), it was amazing and I would love to go back more than anything."
The women's winner will travel to Moose Jaw for the Canadian event, with the winner of that representing Canada at worlds in Prince George.
In men's play, defending champions Team Cotter, from Vernon and Kelowna curling clubs, with skip Jim Cotter, third Steve Laycock, second Andrew Nerpin and lead Rick Sawatsky defeated fellow Vernon curlers Team Longworth 7-3 after nine ends.
Laycock said that the team would be looking to keep their game plan going. "We didn't adjust to the ice as quickly as we wanted to that game so we would like to do a little bit better job of that but as far as game plan we're pretty happy with that, we've executed pretty good, especially in the second half."
The men's final goes ahead tomorrow at 1 p.m. Pacific (2 p.m. MST). The winner will go to the Tim Hortons Brier in Kingston, Ont.
Team Tardi, the youngest team on the men's side, will be the semis for the first time and are now guaranteed at least a medal. But skip Tyler Tardi, third Sterling Middleton, second Jordan Tardi, lead Alex Horvath and coach Paul Tardi will first have to get past Team Longworth, one of the most experienced teams in the field, to make the final.
After the team knocked out Victoria's Team Montgomery 7-2 in the Page 3-4 game, Middleton said: "We're feeling pretty good. We kind of dropped a couple of games early on in the triple knockout so we had our back up against the wall the last couple of games but I feel like we're kind of building momentum now and everything's starting to come together."
Team Daniels from Delta Thistle dispatched Team Richards from Kelowna and Victoria 10-5 in the Page 3-4 game. The team is made up of skip Sarah Daniels, third Kayla MacMillan, second Holly Horvat, lead Sarah Loken and coach Katie Witt.
Sarah Daniels said: "This is the first ladies' provincial for the three of us so it's just really awesome to be in the playoffs to begin with and to be coming home with a medal no matter what is just top of our list for the season this year so anything more than this is just extra."
There is plenty more action to catch this evening and Sunday at Western Financial Place.
The women's semi-finals and men's and women's finals will go ahead tonight at 6 p.m. Pacific (7 p.m. MST) be broadcast on CHEK and streamed at cbc.ca/sports/. The broadcast schedule is posted at https://www.curlbc.ca/live-streaming-broadcast-schedule/.
Ticket and event information for both the men's and women's championships is available at https://www.curlbc.ca/cranbrook-2020/.
TEAM ROSTERS:
Men's teams still in the competition:
Team Cotter, Vernon and Kelowna Curling Clubs
Skip: Jim Cotter
Third: Steve Laycock
Second: Andrew Nerpin
Lead: Rick Sawatsky
Team Tardi, Langley and Victoria Curling Clubs
Skip: Tyler Tardi
Third: Sterling Middleton
Second: Jordan Tardi
Lead: Alex Horvath
Coach: Paul Tardi
Team Longworth, Vernon Curling Club
Skip: Mark Longworth
Third: Michael Longworth
Second: Rob Nobert
Lead: Cam Weir
Women's teams
Qualifier 1: Team Wark, Abbotsford Curling Club
Skip: Sarah Wark
Third: Kristen Pilote
Second: Carley Sandwith
Lead: Jen Rusnell
Qualifier 2: Team Brown, Kamloops Curling Club
Skip: Corryn Brown
Third: Erin Pincott
Second: Dezaray Hawes
Lead: Ashley Klymchuk
Coach: Allison MacInnes
Qualifier 3: Team Daniels, Delta Thistle Curling Club
Skip: Sarah Daniels
Third: Kayla MacMillan
Second: Holly Horvat
Lead: Sarah Loken
Coach: Katie Witt
Subscribe to our newsletter
Receive the latest news updates, tournaments, programs, services and discounts.