Day 2 action sees teams advance
January 29, 2020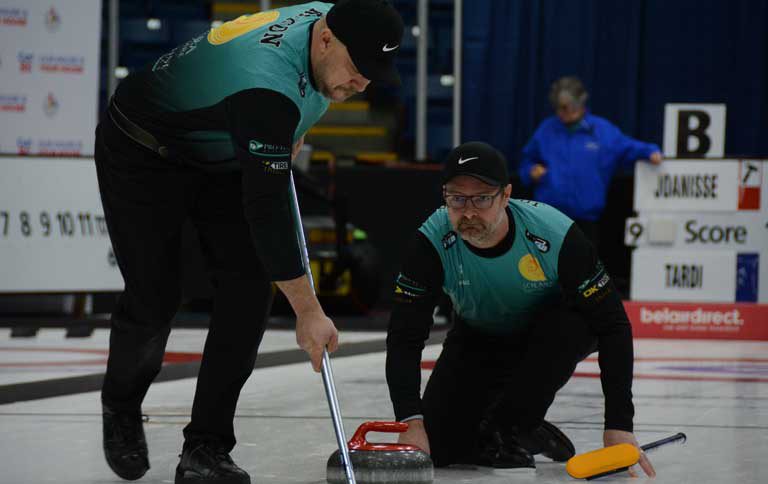 The 2020 BC Championships in Cranbrook  are in full swing and the frontrunners are beginning to emerge.
In men's play, three teams remain unbeaten and will be looking for the first qualifier position and a playoff berth. The teams include Team Joanisse, Team Richard and Team Cotter. The Richard rink from Kelowna of skip Jeff Richard, third Tyler Klymchuk, second Corey Chester and lead Rhys Gamache will play Dean Joanisse's rink to earn a spot in the A Event final. The Joanisse rink from Golden Ears Winter Club and Royal City Curling Club is made up of Joanisse, third Andrew Bilesky, second Steve Kopf, lead Aaron Watson and fifth Steve Petryk.
Defending champions Team Cotter, from Vernon and Kelowna curling clubs, with skip Jim Cotter, third Steve Laycock, second Andrew Nerpin and lead Rick Sawatsky defeated Team Montgomery in Draw 6 to earn their A Event final spot. The A final will go ahead tomorrow (Jan. 30) at 4pm).
The 2020 BC Men's Curling Championship, presented by Nufloors – Penticton and the 2020 Scotties BC Women's Curling Championship, presented by Best Western, is taking place at Cranbrook's Western Financial Place from Jan. 28 to Feb. 2. A full event pass is $90 – with individual draw tickets available from $10. 
There are plenty of great storylines among the other contenders. Brad Wood, who has three Briers under his belt, is skipping a team from Vernon and Penticton. Not only is he a playing in the event but he is also sponsoring a number of teams – and the event itself. The Nufloors owner said he liked supporting the players. "It's tough to get sponsorships for this kind of thing, so I like to do it. To be able to curl in it is just the bonus on top of it."
Wood is still in the mix for a B Event qualification, having only lost one game so far.
Despite having been on a larger stage, Wood still finds it exciting to play in a BC championship. "It's still really exciting. It's always fun to kind of see all your other friends and the new guys you get to meet, especially these young up-and-coming teams. It's fun to watch them because they really develop the sport. It's something I haven't seen for 12-15 years. It's a nice change."
And for Rob Dennis of Team Dennis, who have dropped to the C Event, the experience has meant a lot. The skip of the team from Royal City Curling Club and Salmon Arm Curling Centre,  brought in a rock star coach – BC, Brier and World Champion Greg McAulay, who also happens to be his father-in-law.  Dennis said he appreciated the partnership. He said: "It's great. He brings such a wealth of knowledge for sure and experience. He's been super great, mostly on the mental side. The big part is getting us mentally ready, talking about stuff before and debriefing after. He sees everything and he pays attention to us watching and playing so it's invaluable really, it's been fantastic."
On the women's side, Team Wark is the frontrunner with a 3-0 record heading into their fourth game this evening. (8pm MST). Their lineup of skip Sarah Wark, third Kristen Pilote, second Carley Sandwith and lead Jen Rusnell.
Team Daniels, from Delta Thistle Curling Club has two wins under their belt. Skip Sarah Daniels, third Kayla MacMillan, second Holly Horvat, lead Sarah Loken and coach Katie Witt sit with a 2-1 record, but with one  of those wins against Team Brown, who have the other 2-1 record. Team Brown features skip Corryn Brown, third Erin Pincott, second Dezaray Hawes and lead Ashley Klymchuk.
Ticket and event information for both the men's and women's championships is available at https://www.curlbc.ca/cranbrook-2020/.
For scores during the round robin (women) and triple knockout rounds (men) of the championships visit https://playdowns.curlbc.ca. The semi-finals and finals of the women's and men's events will be broadcast on CHEK and streamed at cbc.ca/sports/. The broadcast schedule is posted at https://www.curlbc.ca/live-streaming-broadcast-schedule/.
Subscribe to our newsletter
Receive the latest news updates, tournaments, programs, services and discounts.