Curling family is on a roll
January 30, 2020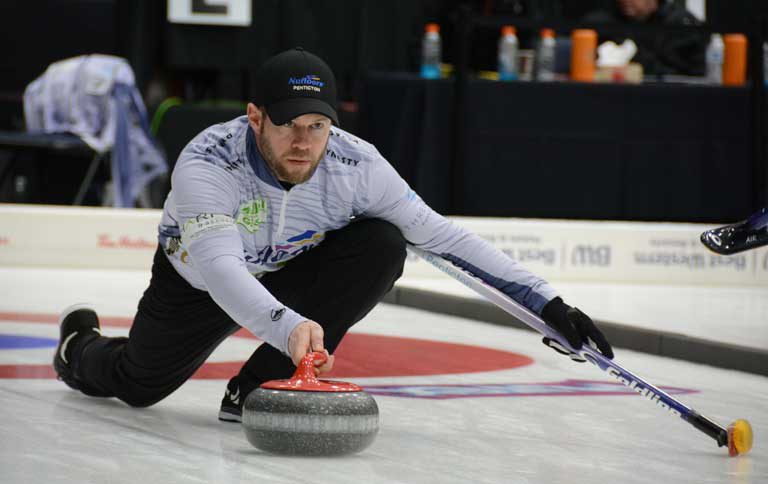 Day three of the 2020 BC Championships in Cranbrook  is winding down – and for one family it's been a great week.
Steph Jackson Baier, her husband Chris Baier (Team Montgomery) and her dad Glen Jackson (Team Jackson) are all still in the mix for playoff spots.
The 2020 BC Men's Curling Championship, presented by Nufloors – Penticton and the 2020 Scotties BC Women's Curling Championship, presented by Best Western, is taking place at Cranbrook's Western Financial Place from Jan. 28 to Feb. 2. A full event pass is $90 – with individual draw tickets available from $10. 
Jackson Baier, who plays for Team Richards, sits with a 3-2 record, tied for third in the women's standings with Delta Thistle's Team Daniels.
She said it is fantastic that the whole family can play at an event like this.
She said: "Coming from a curling family is a very cool thing. We're kind of submerged within the sport at all times whether we're in a competition or not, sitting around the kitchen table talking about strategy or different techniques that we're working on. It means a lot, it means everything. I feel very lucky, especially to come to one of these events where the stakes are high and the passion kind of shines through from all of us.  We all love being here amongst friends and family. Always watching each others' scores even if we can't watch a game. It's an experience I wouldn't trade for anything and it's such a pleasure to have this experience together."
Jackson Baier plays second with Team Brette Richards alongside third Blaine de Jager, lead Rachelle Kallechy and fifth Patti Knezevic. They are coached by former BC champion David Harper (Geall, 2018). The team has connections to Kelowna, Prince George and Victoria, where Jackson Baier lives.
In men's play, defending champions Team Cotter, from Vernon and Kelowna curling clubs, with skip Jim Cotter, third Steve Laycock, second Andrew Nerpin and lead Rick Sawatsky defeated Team Joanisse 10-3 to earn the first qualifier spot. The team won't play again until Saturday.
Jim Cotter came to this event after spending the past week in Langley watching his daughter represent BC at the 2020 New Holland Canadian Juniors. So for the Cotter family, curling means a lot too.
Cotter is looking for his ninth trip to the Brier, a record for BC, but he will have to take it one step at a time.
Jim Cotter said: "Each game we're getting better and better and that's our ultimate goal is to climb the mountain. It was a good start for us but we know there's room for improvement.
But the team has a day off tomorrow so Cotter said it was important not to lose focus. "We'll try and get some practice ice, and keep with our routines, and just make sure we're hanging around the rink a little bit, making sure the ice conditions are staying the same or changing, that sort of thing. So yeah, we have some time to kill, but we have been in this position before, so we just have to stay focused."
Team Olsen from Kamloops, Team Thompson from Vancouver and Team Salviulo from Castlegar were all eliminated from the competition earlier today.
There is plenty more action to catch this evening and tomorrow at Western Financial Place.
For scores during the round robin (women) and triple knockout rounds (men) of the championships visit https://playdowns.curlbc.ca. The semi-finals and finals of the women's and men's events will be broadcast on CHEK and streamed at cbc.ca/sports/. The broadcast schedule is posted at https://www.curlbc.ca/live-streaming-broadcast-schedule/.
Ticket and event information for both the men's and women's championships is available at https://www.curlbc.ca/cranbrook-2020/.
Subscribe to our newsletter
Receive the latest news updates, tournaments, programs, services and discounts.