Craig and Mychaluk win BC Seniors
February 26, 2020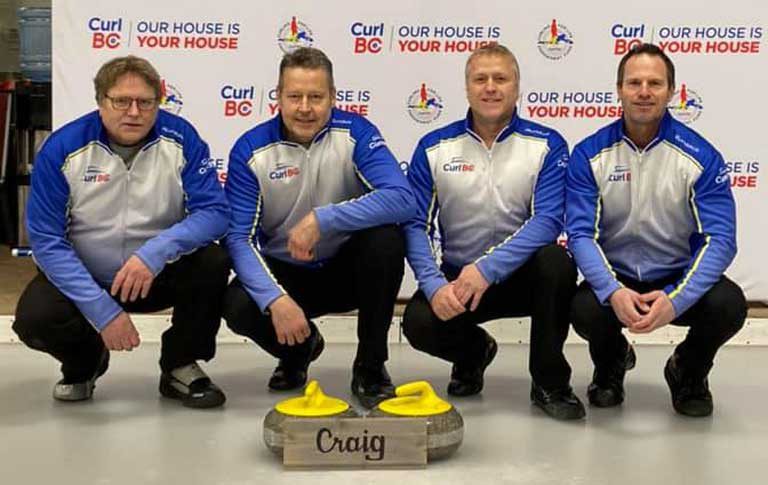 Wes Craig will return to the Everest Canadian Senior Curling Championships as Team BC for the second year in a row.
His team, representing Kerry Park and Nanaimo, features third Steve Waatainen, second Keith Clarke, and lead Craig Burton.
It is the same team that won the seniors in Trail last year and represented BC at the Everest Canadian Senior Curling Championships in Chilliwack. This year the team dominated the competition at Vernon Curling Club which wrapped up on Sunday (Feb. 23). They had the strongest record in round robin play, wining the bye to the final. A score of four in the second end helped them on their way to a 7-1 win over Team Wright of Kelowna/Comox Valley in the gold medal final.
Craig said: "My team and I really enjoyed the event in Vernon. The ice, volunteers, banquet and everything else was great.
"This is our team's second year together and I feel we are really starting to gel. Hopefully we can carry this performance on to the nationals."
Last year in Chilliwack Team Craig made it through to the championship round and ended with a 5-5 record (seventh place).
Earlier Team Wright had beat Team Pierce 5-4 in the semi finals. Former Canadian and world champions Brent Pierce and Bryan Miki were part of the Pierce team representing Royal City. They were awarded the bronze medals, with Team Wright taking silver.
This year the winning teams have earned the chance to represent BC at the Everest Canadian Seniors from Mar. 16-22 at the Portage Curling Club in Portage la Prairie, Man.
Team Mychaluk from Royal City won the women's final on Sunday, beating the Shantz team from Parksville/Nanaimo/Comox Valley.
For skip Donna Mychaluk, it has been a recent shift into the skip role at provincials. She previously played third, said: "It still doesn't feel real! With a new team this year and my first time skipping at the provincial level, it's been great. I have a great trio of ladies in front of me that are super supportive."
She added: "The event in Vernon was amazing from the senior-friendly draw times, to the consistent ice, and especially all the wonderful volunteers."
Team Mychaluk was rounded out by third Victoria Murphy, second Shirley Wong and lead Janet Suter.
They beat Team Shantz in a nail-biting 6-5 extra end victory. Team Shantz features skip Penny Shantz who won a gold medal at the 1988 Calgary Olympics when curling was a demonstration sport. Team Richter, who won the event last year, were awarded the bronze medals.
The scores for the BC Senior Curling Championships are available at http://playdowns.curlbc.ca.
For the provincial event information visit https://www.curlbc.ca/vernon-2020/.
Team rosters of medalists:
MEN
GOLD
Team Craig, Nanaimo, Kerry Park
Skip: Wes Craig
Third: Steve Waatainen
Second: Keith Clarke
Lead: Craig Burton
SILVER
Team Wright, Kelowna/Comox Valley
Skip: Steve Wright
Third: Ron Schmidt
Second: Normand Cote
Lead: Shaun Everest
BRONZE
Team Pierce, Royal City
Skip: Brent Pierce
Third: Ken Maskiewich
Second: Darin Fenton
Lead: Bryan Miki
Fifth: Ross Graham
WOMEN
GOLD
Team Mychaluk, Royal City/Parksville
Skip: Donna Mychaluk
Third: Victoria Murphy
Second: Shirley Wong
Lead: Janet Suter
SILVER
Team Shantz, Parksville/Nanaimo/Comox Valley
Skip: Penny Shantz
Third: Colleen Robson
Second: Debbie Erdos
Lead: Teri Palynchuk
Fifth: Susan Hamilton
Coach: Gerry Richard
BRONZE
Team Richter, Penticton/Kelowna
Skip: Marilou Richter
Third: Dawn Everest
Second: Cindy Curtain
Lead: Deirdre Riley
Subscribe to our newsletter
Receive the latest news updates, tournaments, programs, services and discounts.