Youth curlers converge on Chilliwack for Canada Winter Games Qualifiers
March 16, 2022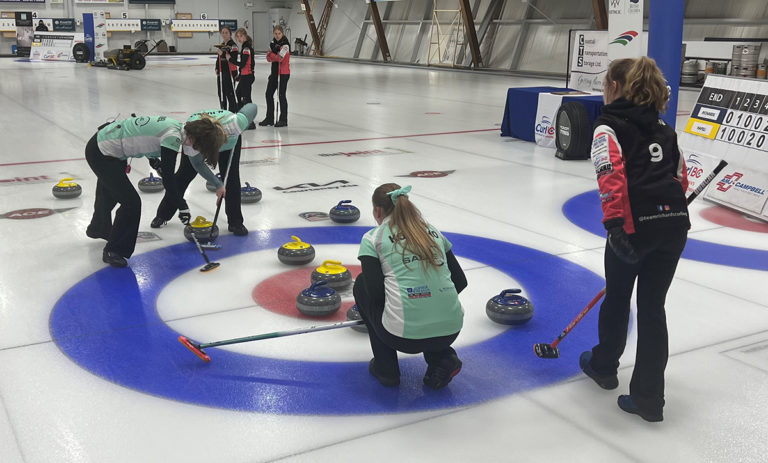 Six girls' teams and three boys' teams are set to compete at the Chilliwack Curling Club this week, in the hopes of qualifying for the 2023 Canada Winter Games in Prince Edward Island.
The Games will bring together 3,600 athletes, managers and coaches, across 20 different sports⁠—including curling⁠—for the largest multi-sport event in the country.
The teams competing in the Girls' Curling Qualifier are:
TEAM HAFELI
Skip: Holly Hafeli
Third: Jorja Kopytko
Second: Eryn Czirfusz
Lead: Natalie Hafeli
Club: Kamloops
TEAM REMPEL
Skip: Hannah Rempel
Third: Lauren Cochrane
Second: Megan Rempel
Lead: Claire Ramsey
Club: Kelowna
TEAM RICHARDS
Skip: Gracelyn Richards
Third: Keelie Duncan
Second: Grace McCusker
Lead: Chelsea Taylor
Club: Comox Valley
TEAM TRIP
Skip: Jessica Trip
Third: Erin Manning
Second: Miranda Allen
Lead: Audrey Gosse
Club: Penticton
TEAM WHEATCROFT
Skip: Amy Wheatcroft
Third: Brooklyn Aleksic
Second: Ashley Dezura
Lead: Savannah Miley
Club: Golden Ears
TEAM WONG
Skip: Bryelle Wong
Third: Morgan Bowles
Second: Taylor Bowles
Lead: Alexis Nguyen
Club: Royal City
And the boys' teams are:
TEAM BLAESER
Skip: Nolan Blaeser
Third: Koen Hampshire
Second: Kaiden Beck
Lead: Nolan Beck
Club: Vernon, Salmon Arm
TEAM PARKINSON
Skip: Chris Parkinson
Third: Neil Imada
Second: Graham Lee
Lead: Jesse Tiede
Clubs: Comox Valley, Langley
TEAM TAM
Skip: Adrian Tam
Third: Ethan Chiu
Second: Harrison Hrynew
Lead: Andrew Baker
Club: Port Moody
Subscribe to our newsletter
Receive the latest news updates, tournaments, programs, services and discounts.