Women in Curling grants
December 17, 2020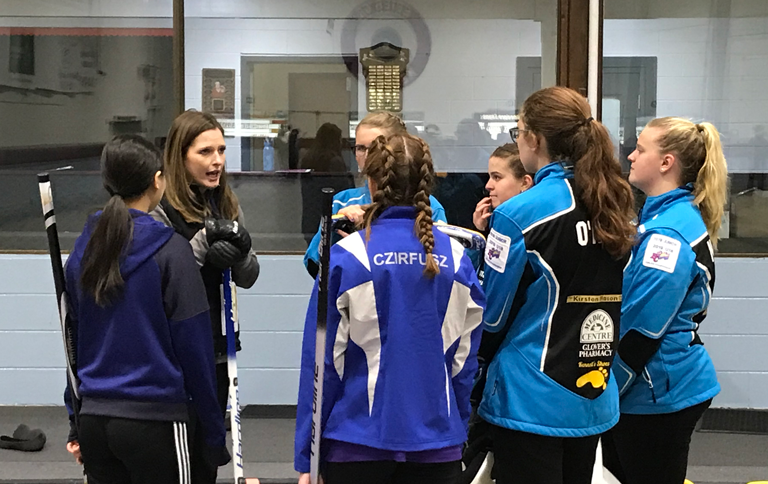 Programs and initiatives that support the development of women and girls in curling can receive up to $2,000 in financial support courtesy of a new gender equity project supported by Curling Canada.
The Women Curling Leaders' Circle — a group of Canada's dynamic female sport leaders, coaches and personnel — will provide five grants of up to $2,000 each to support new projects and ideas that attract women and girls to curling.
The group hosted its first Women in Leadership conference in person during the 2020 Scotties Tournament of Hearts in Moose Jaw, Sask. Since there was no opportunity to meet in person this year due to the pandemic, it provided a new opportunity to support women and girls at all levels of the sport.
"The goal of the women's leadership conference is to empower women leaders and their voices heard at the national and provincial levels," said Curling Canada's national women's coach Elaine Dagg-Jackson, who lives in Victoria. She played a leading role in organizing the conference and maintaining the group's ongoing gender equity efforts. "These grants target the other side of the spectrum – the grassroots game – and empowers local leaders of the sport."
The Women in Curling grants are possible due to the ongoing support of Sport Canada funding, in addition to other contributions by Own the Podium and Kruger Products, the longtime sponsor of the Scotties Tournament of Hearts.
The projects must build gender equity and/or expand the quality of experience for women and girls to either play or become leaders in curling. Due to the limited access to on-ice opportunities, projects that entail an off-ice focus are encouraged.
"This project is left wide open because we do not want to put any parameters on an applicant's creativity. We want these grants to encourage women and girls to find their leadership voice within their curling community," Dagg-Jackson said. "The projects could entail hiring someone for a project, covering registration fees for a course or even facility costs. The sky is the limit and we can't wait to see what kind of creative initiatives people have to support women and girls with a passion for curling."
The grant program is just one facet of a larger gender equity plan in place by the Women Curling Leaders' Circle. It will follow up its successful Women in Leadership conference with an invitational virtual event in February 2021 that will provide personal development/growth and new opportunities to develop leadership. The group continues enhancing its Women in Canadian Curling Facebook group, which has become a hub for encouraging more women to participate in all aspects of the game, both on and off the ice.
People interested in the Women in Curling grants are encouraged to review real-life examples of how other sports groups have found positive ways to promote gender equity by visiting the the Canadian Women & Sport website.
Applications for the Women in Curling grant must be received by Dec. 31, 2020. Successful applicants will be notified by Jan. 15, 2021.
Click here to submit your application.
Subscribe to our newsletter
Receive the latest news updates, tournaments, programs, services and discounts.