Webinar series for clubs
April 28, 2021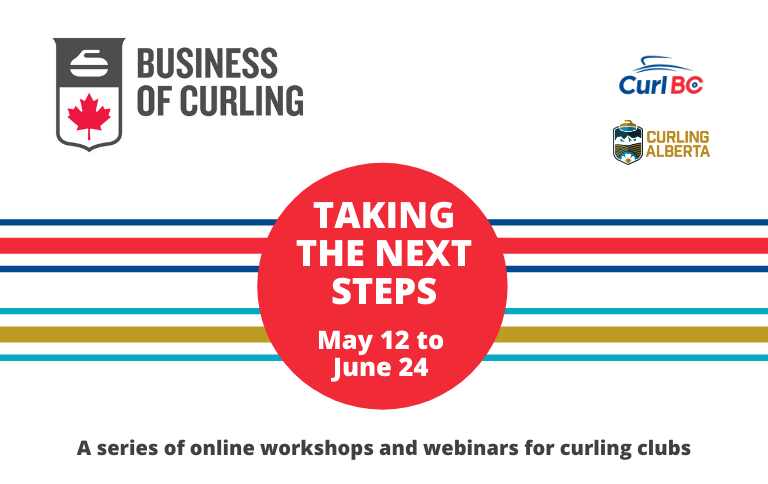 Have you got some great ideas for next season but need some help making it all happen?
Curl BC and Curling Alberta have partnered to present a series of one-hour webinars covering topics that will help you raise your club operations to the next level! The interactive webinars will feature guest speakers who are experts in their field as well as some experienced club managers. This is a great opportunity to work together to solve similar issues and to form networks with other managers and board members. All Curl BC and Curling Alberta Member Club staff and volunteers are encouraged to participate. A fee of $25 per club will be charged and will allow each club to register up to five participants for all nine webinars. Once your registration is complete you will receive zoom links for each webinar.
The Business of Curling schedule is as follows:
Wednesday, May 12th
2:30pm-3:30pm – Social Media Basics
Saturday, May 15th
11:00am – 12:00pm – Simplify your Online Booking or Online Reservations
Sunday, May 16th
6:00pm – 7:00pm – Membership Recruitment
7:00pm – 8:00pm – Social Media Marketing
Thursday, May 27th
6:00pm – 7:00pm – Grant Writing Boot Camp
7:00pm – 8:00pm – Capital Project Planning
Thursday, June 10th
6:00 – 7:00pm – Risk Management
7:00pm – 8:00pm – Board Recruitment and Succession Planning
Thursday, June 24th
6:00-7:00pm – Diversity and Inclusion
Click here to register: https://bc.curling.io/en/products/4608-business-of-curling-webinar-series
Subscribe to our newsletter
Receive the latest news updates, tournaments, programs, services and discounts.