U21 Championship lights up the Comox Valley this week
February 22, 2022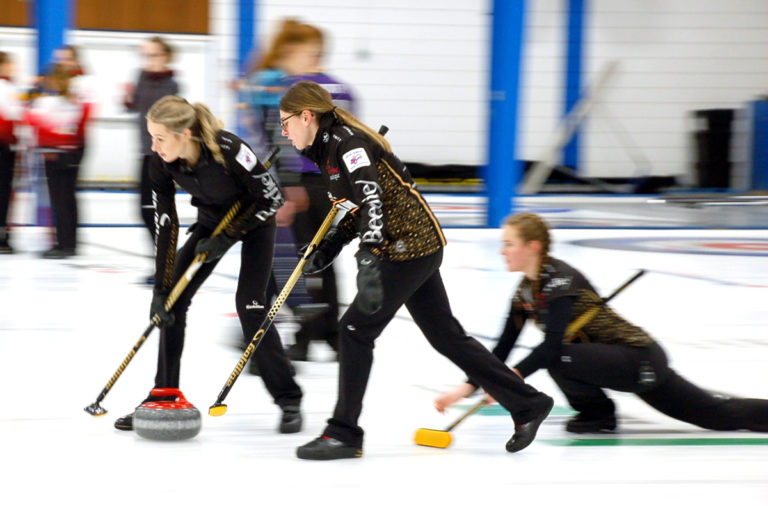 Things are about to get exciting at the Comox Valley Curling Club in Courtenay, as the U21 championships begin and BC's best junior curlers take to the ice.
Created for curlers 21 and under, the U21 championship will run from February 22-27th and see ten women's teams and six men's teams battle for their respective titles. Due to the large number of women's entries, the women's preliminary draws will be in pool play format, followed by playoffs and page playoffs, and then decided through a semi-final and then a final title game. The men's preliminary draws will be round-robin, followed by a semi-final and then final championship game.
Games will be steamed live on Curl BC's YouTube channel, and the semi-finals and finals will be streamed on cbcsports.ca.
The women's teams are:
TEAM BOWLES
Emily Bowles, skip
Meredith Cole, third
Keira McCoy, second
Chelsea Taylor, Lead
TEAM BRISSETTE
Gabby Brissette, skip
Naomi Britz, third
TBD, second
Erin Fitzgibbon, lead
TEAM BUCHY
Kaila Buchy, skip
Katelyn McGillivray, third
Hannah Lindner, second
Elizabeth Bowles, lead
TEAM COLES-LYSTER
Kaelen Coles-Lyster, skip
Sydney Phillips, third
Sarah Wong, second
Amanda Wong, lead
TEAM HAFELI
Holly Hafeli, skip
Jorja Kopytko, third
Hannah O'Neill, second
Natalie Hafeli, Lead
TEAM WHEATCROFT
Amy Wheatcroft, skip
Ashley Dezura, third
Brook Aleksic, second
Hannah Smeed, third
TEAM WOIKE
Emma Woike, skip
Madison Munroe, third
Marijke MacDonald
Madeline Buhr
TEAM RICHARDS
Gracelyn Richards, Skip
Keelie Duncan, third
Grace McCusker, second
Carley, Hardie, Lead
TEAM WILSON
Kayla Wilson, skip
Mahra Harris, third
Sasha Wilson, second
Madi Penttila, lead
TEAM WONG
Bryelle Wong, skip
Morgan Bowles. Third
Taylor Bowles, second
Alexis Nguyen, lead
And the men's teams are:
TEAM DEANE
Connor Deane, skip
Joshua Miki, third
Mack Ellis, second
Brenin Moore, lead
TEAM DENG
Daniel Deng, skip
Matthew Fenton, third
Bryan Yamada, second
Zander Landygo, lead
TEAM FENTON
Adam Fenton, skip
Alex Duncan-Wu, third
Sam Hudson, second
Wesley Wu, lead
TEAM KENT
Connor Kent, skip
Toby Mills, third
Daniel Dabiri, second
Michael Nunn, lead
TEAM KOPYTKO
Mitchell Kopytko, skip
Calder Fadden, third
Coburn Fadden, second
TEAM PARKINSON
Chris Parkinson, skip
Jackson Nowak, third
Connor Litton, second
Christian Klein-Beekman, lead
Good luck and good curling to all!
Subscribe to our newsletter
Receive the latest news updates, tournaments, programs, services and discounts.