U16 BC Winter Games Zone Registration Closes December 12th
December 03, 2021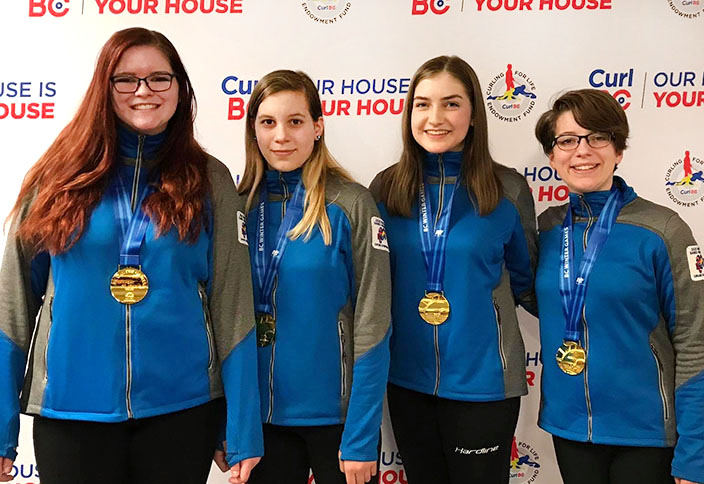 With the registration deadline for the BC Winter Games coming up on December 12th, Curl BC is urging our member clubs to sign up teams of four boys and/or four girls, aged 11-15.
Team members need to all live in the same zone, and play in an official Curl BC Zone Qualifier between the January 9th and 16th weekends, depending on which zone you are entering. The winners of each zone competition, in both the boy's and girl's categories, will go on to represent their zone at the BC Winter games in Vernon, from February 24th to 27th.
Following are registration links for each zone event:
Zone 1 Qualifier – Creston – Girl's event, Boy's event
Zone 2 Qualifier – Kelowna – Girl's event, Boy's event
Zone 3 Qualifier – Chilliwack – Girl's event, Boy's event
Zone 4 Qualifier – Chilliwack – Girl's event, Boy's event
Zone 5 Qualifier – Chilliwack – Girl's event, Boy's event
Zone 6 Qualifier – Lake Cowichan – Girl's event, Boy's event
Zone 7 Qualifier – TBD – Girl's event, Boy's event
Zone 8 Qualifier – TBD – Girl's event, Boy's event
(teams registered for the Zone 3, 4, 5 event can book at the host hotel here for the 3 zone qualifiers taking place in Chilliwack, January 14-16th, 2022)
In 2020, the Games' gold medalists in curling were Team Rempel and Team Fei in curling at the multi-sport event in Fort St John BC. Team Rempel, from Kelowna, was made up of skip Hannah Rempel, third Vivian Schmeeckle, second Megan Rempel, lead Lauren Cochrane and coach Wendy Cseke.
In boys' play, Team Fei, from GEWC/Royal City/Port Moody/Delta Thistle, claimed gold after going undefeated in the competition. The team consisted of skip Kazune Eugene Fei, third Adam Fenton, second Evan Fenton, lead James McCreedy and coaches Fuji Miki and substitute coach, Brad Fenton.
The BC Winter Games also offer great opportunities for both mentorship and mentorship training. In Vernon, and leading up to the zone qualifiers, Logan Miron and Barb Zbeetnoff will be serving as apprentice coaches, there to support coaches and teams.
"I am a competitive curler in BC," says Miron, "and I have been a certified competition coach for 3 years. This will be my second BC Winter Games as a part of the coach mentorship team! BC winter games is an incredible weekend of sport, learning, and fun for both the athletes and the coaches! I'm excited to meet all the coaches and players competing to represent their zone at the Games. I hope to be able to provide coaches with strategies and tools to help them lead their team to success on and off the ice!"
"I am looking forward to working with the BC Winter Games coaches again," says Zbeetnoff. "This will be my second year involved in the mentorship program. I'm excited to meet some new coaches and reconnect with others. My passion is fostering collaboration amongst coaches. My hope is to create a safe environment during the program that promotes learning and peer connections that the coaches can continue throughout their coaching careers."
The Games are also offering an Officiating Mentorship Program, which will provide practical experience and mentorship to all level 2 officials in attendance. Curl BC will select 1 applicant from each of the eight BC games zones, and provide for accommodation. Transportation and meals will be provided by the BC Games Host society.  The Application deadline is January 21, 2021. Apply here. Please encourage officials from you club to apply!
For most competitors, it will be the first and in many cases only multi-sport games experience in the Curling Canada Long-Term Curler Development Pathway, with the exception of the Youth Olympic Games and Olympic Games that take place further down the LTCD pathway.
The BC Winter Games offer an incredible opportunity for young curlers to experience the thrill of competition and comradeship in a championship setting, and we urge all eligible boys and girls to register and experience the Games for themselves—the positive memories made there will last a lifetime.
Please note the BC Winter Games' COVID-19 policies:
All participants, volunteers and spectators will be required to be fullyThis now includes 5-11 years old. Any U-12 athletes will be required to be fully vaccinated as well (this means participants are expected to have the first vaccination by December 15, to allow the 8 week period in-between vaccinations). 
All participants must be fully vaccinated by a health Canada/WHO approved vaccination by Feb 9, 2021 which is two weeks before the start of the BC Winter Games February 24.
Staff will be checking and verifying vaccinations up to Feb 10.  Those participants who cannot submit and demonstrate vaccinations will be removed from the Games.
General Rule Link: General Rules
Category Specific Rule Link: Category Specific Rules
Curl BC Competitor Guide: All Categories
BCWG Technical Package Link: Curling Tech Package Female
BCWG Technical Package Link: Curling Male Tech Package
Subscribe to our newsletter
Receive the latest news updates, tournaments, programs, services and discounts.