Tyler Tardi featured in Men of Curling calendar
September 19, 2019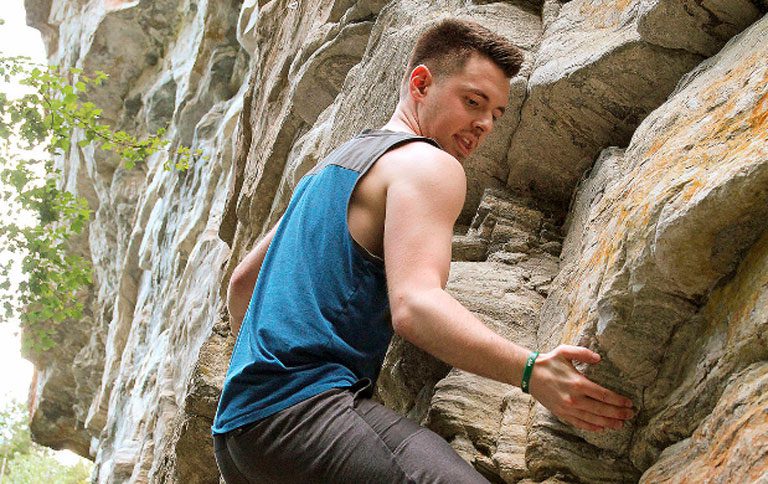 Tyler Tardi has been on the world stage as a junior curler for some time, travelling to three world championships and winning two of them. But this season he has officially been inducted into the world of men's curling.
Tardi, the reigning world junior curling champion, has been included in the latest edition of the Men of Curling Calendar, now on sale. Photographer Kim Wilson captured Tardi in a photoshoot that turned into a bit of off-season strength and conditioning.
It involved a considerable amount of hiking to find the perfect location, but what he didn't take into account was the photoshoot prop he'd have to haul through the trails and elevation.
"Not thinking ahead, I realized I was going to have to carry this curling rock up on the hike and that was quite a grind," said Tardi.
The calendar, a joint effort by The Community Fundraiser and George Karrys, the former publisher of The Curling News, contains a list of all 2019-20 curling event dates along with photos and bios of the athlete models. Each curler sets up his own photoshoot and raises funds for the charity of their choice. Additionally, a portion of the proceeds from every calendar sold supports Curling Canada's youth programs, including the For the Love of Curling scholarship, which is awarded annually to curling student athletes who are balancing sport and school.
Tardi, who is not playing at the junior level this year, was honoured to receive the calendar invitation, considering the clout of the athletes previously featured in the fundraising initiative.
"When I first saw the e-mail I thought, 'What? Me?'. I was honoured to be part of the calendar because I've always looked up to past athletes in it. To be part of it now is such a humbling feeling and I can't wait to be in this year's calendar," said Tardi.
Tardi selected the Curling Canada Foundation as his charity of choice. He received the For the Love of Curling Scholarship in 2016, which supported his drive to win an unprecedented three national junior titles in a row, along with aiding his academic career.
"Curling at a high level while succeeding in school is a constant balancing act, but it was made easier because of Curling Canada's philanthropic programs," said Tardi. "Receiving the award had a positive impact on my life and I believe it's important to pass along this opportunity to more young curlers. I've been given so many new connections due to the Foundation and I'm grateful for the opportunities I've been blessed with."
In addition to raising funds for youth curling programs, Tardi's participation will also support Childhood Cancer Family Support, a cause inspired by the work of his dad and long-time coach, Paul Tardi.
Curlers joining Tardi are Canadians John Epping, Geoff Walker, Craig Savill, Brad Thiessen, Kirk Muyres, Connor Njegovan, Robbie Doherty and Team Bottcher, as well as Korey Dropkin of the United States, Scotland's Bruce Mouat and Japan's Tsuyoshi Yamaguchi.
"We were honoured and excited to get the call to be part of the 2020 Men of Curling calendar," said skip Brendan Bottcher, who posed with his team for the project. "We are grateful to be a part of the curling community and this is a great way to help show off the athletes and their hard work and dedication to the sport. This calendar is a great initiative to help raise money for charities that are important to us.
The charity we are supporting, Ronald McDonald House, provides families of seriously ill or injured children with a home away from home to stay while their child is being treated at a nearby hospital. If our contribution can make even the slightest difference for families in Alberta, our work has been done!"
The calendars are on sale now at menofcurling.com for CDN $34.95 (shipping and handling included).
Subscribe to our newsletter
Receive the latest news updates, tournaments, programs, services and discounts.