Three BC teams prepare for hub
January 22, 2021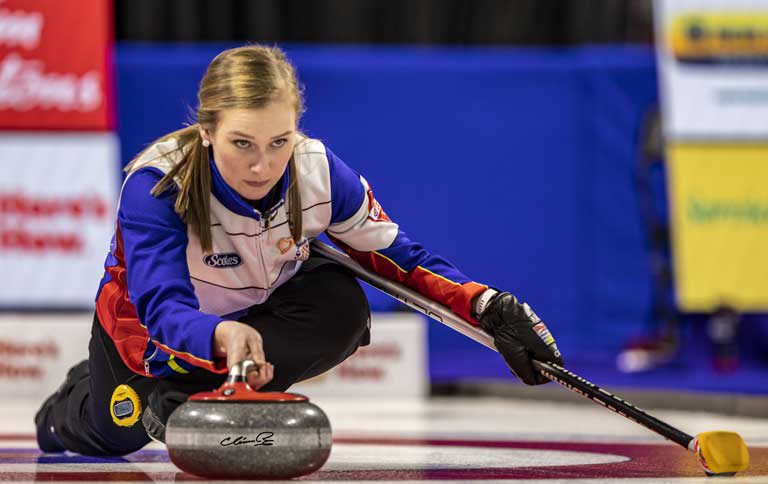 Three BC teams are heading for the hub city curling bubble in Calgary starting next month.
And while two teams are getting a second shot at going to nationals – having won the 2020 provincials in Cranbrook and travelled to their respective nationals last year – this year is definitely going to be different.
The decision to send last year's champions to this year's nationals was made in the fall – as a contingency plan in case Curl BC was unable to run provincials. When health orders restricting sport and travel got extended to Feb. 5 leading to the cancellation of BC championships, Team Brown, Team Laycock and Team Jackson-Baier-Chester were automatically awarded berths to nationals.
The Calgary national event will feature the 2021 Scotties Tournament of Hearts and 2021 Tim Hortons Brier, presented by AGI, as well as the 2021 Home Hardware Canadian Mixed Doubles Curling Championship and 2021 BKT Tires & OK Tire World Men's Curling Championship. The event starts with the Scotties on Feb. 19 and wraps up with the World Men's Curling Championship final on April 11.
For Team Brown of Kamloops, made up of skip Corryn Brown, third Erin Pincott, second Dezaray Hawes and lead Samantha Fisher, not knowing what to expect has been a challenge.
"We are all excited but there's a lot of unknowns. It will probably be a relief when we are in the bubble because all our questions will be answered by then," said Brown.
Three of the team were part of the foursome that travelled to the Scotties in Moose Jaw last season, but their 2020 lead, Ashley Klymchuk, took this season off in order to spend time with her twins, born in the fall.
Fisher, who was a member of the Brown rink for their national junior title in 2013, was the obvious choice to replace her.
Brown said the whole team would have liked a regular season of competition to prepare for this event. "But team dynamic wise it's a pretty easy fit to get back into the swing of it," she added.
"It's a pretty unique way to go to your first (national) Scotties but I think (Fisher) will take from it what she can and gain some great experience," said Brown.
But Brown added that they all feel "really lucky" that the team can still get together to practice.
"We should consider ourselves lucky that we have access to ice. And hopefully we can be as well prepared as we can be given the circumstances," she said.
Team Brown have asked 2014 BC Scotties champ Steph Jackson-Baier to join them as fifth.
Meanwhile Team Laycock's preparations for the Tim Hortons Brier are also markedly different. The team from Vernon and Kelowna is made up of fourth Jim Cotter, skip Steve Laycock, second Andrew Nerpin and lead Rick Sawatsky.
Steve Laycock, who throws third rocks and skips the team, is based in Saskatchewan and is unable to travel to BC to train.
Cotter, from Vernon, said they were hoping to be able to get together after travel restrictions are lifted and before they travel to the bubble.
He admits there have been challenges this season – but he is also looking on the bright side. "The positive side is we have never had so much time to prepare for the Brier. Normally it's the provincials, if you happen to win it's crazy for four or five days and then there's only two weeks before the Brier starts. We can take care of the details now which will allow us to practice and get ready."
While this is a record tenth time at the Brier for Cotter and Sawatsky, and Laycock and Nerpin are no strangers to the event either, their newly secured fifth will be going to the Brier for the first time.
Three-time national junior and two-time world junior champion Tyler Tardi is joining the team as fifth.
Cotter said the team was looking forward to having Tardi there. "We're super excited to have Tyler. With his experience and ability to step in and play any position, and at half my age, or more than half, he's got the energy."
Tardi, whose Langley/Victoria team won silver at last year's BC championship, said: "The main thing I'm trying to get out of this is to learn and soak in as much as possible to hopefully help increase my chances of success in the future."
The third team to travel to the bubble will be the Victoria-based BC Mixed Doubles team of Steph Jackson-Baier and Corey Chester. Although they are last year's BC champions, they were not able to go to nationals because they were cancelled due to Covid-19.
As she is also attending the Scotties with Team Brown it will be "double bubble" duty for Jackson-Baier.  She said: "I'm very proud to have the opportunity to represent BC in two events on the national stage this year.
"Corey and I are especially looking forward to competing as our trip to nationals in 2020 was cancelled with only days' notice last year.
"We are excited and hopeful that during these unique times, Team BC, and other athletes attending the upcoming national championships from our province can band together to share knowledge and experiences to do all of BC proud."
Curl BC High Performance Director Melissa Soligo said: "Although BC was unable to run a provincial championship this year, we are extremely excited that we will be so well represented at the national bubble by all three teams.
"I wish all three teams the best of luck and cannot wait to cheer them on!"
Subscribe to our newsletter
Receive the latest news updates, tournaments, programs, services and discounts.