Teams qualify for BC Winter Games
January 16, 2020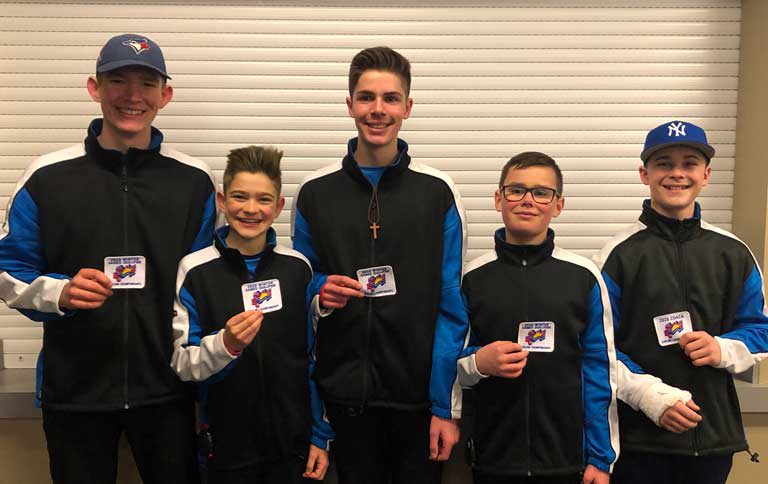 Sixteen U16 curling teams have booked their tickets for the BC Winter Games in Fort St John.
Playdowns in Quesnel, Penticton, Lake Cowichan and at Golden Ears Winter Club in Maple Ridge saw five boys' teams and one girls' team qualify for the multi-sport event taking place Feb. 20-23. The curling will be staged at Fort St John Curling Club.
For the boys, all eight zones are fielding teams. Team Woolends qualified out of Zone 8 (Cariboo-Northeast) , with Team Beaton taking the Zone 2 (Thompson-Okanagan) spot. Team Parkinson grabbed the Zone 6 (Vancouver Island-Central Coast) spot, with Team Reed (pictured above) and Team Fei taking Zones 3 (Fraser Valley) and 4 (Fraser River) respectively. All the playdowns wrapped up on Jan. 12. Boys' teams from Zones 1, 5 and 7 were awarded entries without having to playdown.
For the girls, teams from seven Zones will be represented with the host Zone 8 – Cariboo-North East not fielding a team. The extra berth was awarded to Zone 2 – Thompson/Okanagan. A playdown at Lake Cowichan determined the final spot for Zone 6 (Vancouver Island-Central Coast) and that went to Team Richards of Comox Valley.
Several teams have already had provincial experience this year, including members of Team Reed and Team Fei who were at the BC Junior Curling Championships in Victoria. Members of Team Parkinson and Team Richards were also at the U21 event in Victoria.
The event in Fort St John will see two pools for each gender compete in a round robin format with the top teams advancing to playoffs.
During the event, Curl BC is partnering with viaSport and the BC Games Society to run a Coach Mentorship Program. This year's coach mentor is former competitive player Barb Zbeetnoff.
The full rosters of all the teams headed to the BC Winter Games are below.
Scores for the BC Winter Games will be available at https://playdowns.curlbc.ca.
Full team rosters:
BOYS:
Zone 1 (Kootenays)
Team Wolfram, Grand Forks
Skip: Zach Wolfram
Third: Sam Maffioli
Second: Reece Whitehead
Lead: Keith Marks
Coaches: Dave Bartlett/Kevin Maffioli
Zone 2 (Thompson-Okanagan)
Team Beaton, Kelowna/Vernon
Skip: Dane Beaton
Third: Connor Applegate
Second: Zach Wielgosz
Lead: Desmond Johns
Coach: Travis Wielgosz
Zone 3 (Fraser Valley)
Team Reed, Golden Ears Winter Club
Skip: Thomas Reed
Third: Miles Reed
Second: Peter Sheridan
Lead: Sawyer Miley
Fifth: Wally Dezura
Coach: Rob Smith
Zone 4 (Fraser River)
Team Fei, GEWC/Royal City/Port Moody/Delta Thistle
Skip: Kazune Eugene Fei
Third: Adam Fenton
Second: Evan Fenton
Lead: James McCreedy
Coach: Fuji Miki/Brad Fenton
Zone 5 (Vancouver-Coastal)
Team Toffoli, Vancouver
Skip: Jake Toffoli
Third: Adam Rusch
Second: Dylan Toffoli
Lead: Isaac Rusch
Fifth: Joshua Jordan
Coach: Sandra Comadina
Zone 6 (Vancouver Island-Central Coast)
Team Parkinson, Comox/Qualicum
Skip: Chris Parkinson
Third: Jackson Nowak
Second: Henry Holland
Lead: Graham Lee
Coach: Bob Franklin
Zone 7 (North West)
Team Kildaw, Hirsch Creek (Kitimat)
Skip: Duncan Kildaw
Third: Kemper Weightman
Second: Kris McLean
Lead: Markus Anthony
Coach: Laurence Turney
Zone 8 (Cariboo-North East)
Team Woolends, Quesnel
Skip: Noah Woolends
Third: Kyle Eggert
Second: Brycen Trimble
Lead: Landon Cherry
Fifth: Caleb Woolends
Coach: Justin Nillson
GIRLS:
Zone 1 (Kootenays)
Team Smith, Elkford
Skip: Taylor Smith
Third: Annaka Rodd
Second: Jorja Hamilton
Lead: Abigail Talbot
Coach: Dustin Smith
Zone 2 (Thompson-Okanagan)
Team Rempel, Kelowna
Skip: Hannah Rempel
Third: Vivian Schmeeckle
Second: Megan Rempel
Lead: Lauren Cochrane
Coach: Wendy Cseke
Zone 2 (Thompson-Okanagan)
Team Trip, Penticton
Skip: Jessica Trip
Third: Erin Manning
Second: Rachel Lane
Lead: Audrey Gosse
Fifth: Miranda Allen
Coach: Michelle Pratt
Zone 3 (Fraser Valley)
4KGirl$, Golden Ears Winter Club (Maple Ridge)
Skip: Amy Wheatcroft
Third: Ashley Dezura
Second: Brook Aleksic
Lead: Hannah Smeed
Fifth: Savannah Miley
Coaches: Diane Dezura, Shannon Joanisse and Georgina Wheatcroft
Zone 4 (Fraser River)
Team Cooper-Smith, Peace Arch/Port Moody/Royal City
Skip: Gemma Cooper-Smith
Third: Sydney Phillips
Second: Alexis Nguyen
Lead: Bryelle Wong
Coach: Ed Holland
Zone 5 (Vancouver-Coastal)
Team Bowles, Delta Thistle
Skip: Emily Bowles
Third: Morgan Bowles
Second: Taylor Bowles
Lead: Kate Bowles
Coach: Mike Bowles
Zone 6 (Vancouver Island-Central Coast)
Team Richards, Comox Valley
Skip: Gracelyn Richards
Third: Keelie Duncan
Second: Bryn Woloshyn
Lead: Carley Hardie
Coach: Adam Duncan, Darren Richards
Zone 7 (North West)
Team Oliveira, Hirsch Creek (Kitimat)
Skip: Camryn Oliveira
Third: Ally Feduniak
Second: Grace Feduniak
Lead: Kayla Abram
Fifth: Shylean Bogart
Coach: Dave Durrant
Subscribe to our newsletter
Receive the latest news updates, tournaments, programs, services and discounts.