Teams Hafeli, Fenton tops at Refresh BC Junior Classic
October 11, 2022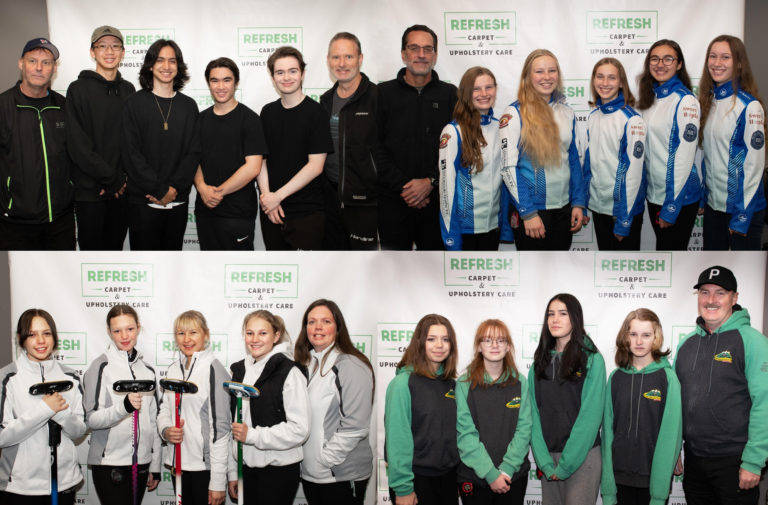 It was hot time in Maple Ridge this past long weekend, as the Refresh BC Junior Classic hit the ice at the Golden Ears Winter Club for the second leg of the BC Junior Curling Tour.
In all, the competition saw ten junior women's teams and seven junior men's teams competing for both glory and prize money. A number of new teams from clubs across BC entered this event, indicating BCJCT participation numbers are growing since the Anita Cochrane event is September, 2022.
It was fantastic to see new and experienced teams at the U15, U18 and U21 ages having fun, learning and experiencing meaningful competition. Well done to Team Miranda Allen, Team Taj McKenzie, Team GEWC Juniors and Team VerKam5 who were all participating in their first BC Junior Curling Tour Event, and a special shout out to Team McKenzie on making the playoffs as a new team.
The preliminary round saw plenty of spirited action, culminating in Team Adam Fenton topping the men's pool and getting a bye to their second BCJCT final of the season.
As the event moved into the playoff round, the men's semi-final saw Team McKenzie defeat Team Nolan Blaeser 6-4.
In the women's playoffs, Team Holly Hafeli defeated hometown favourites Team Ashley Dezura (aka the 4KGirl$) 10-6 in semi-final number one, and Team Duncan came out on top over Team Coles-Lyster. 9-6 in semi-final number two.
Sparks flew in two closely-matched championship games on Monday, Thanksgiving day. In the men's final, Team Fenton won a hard-fought 6-5 victory over Team McKenzie, fresh off taking the title at the Anita Cochrane Memorial Spiel just three weeks ago,
There was a tough battle for the women's championship as well, with Team Hafeli making a nose hit in an extra-end for a 6-5 victory. This was a back-to-back title for Team Hafeli, who also won the event in 2021. Congratulations to them on defending their title!
Subscribe to our newsletter
Receive the latest news updates, tournaments, programs, services and discounts.