Teams gear up for BC Juniors
December 09, 2019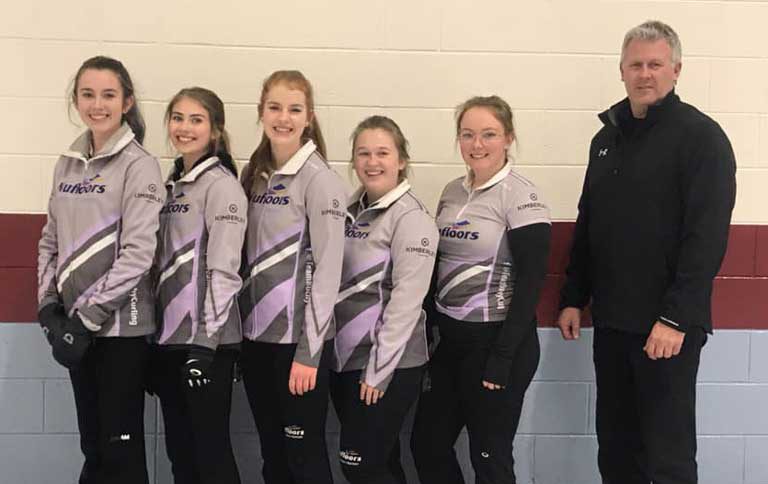 The field is now complete for the 2020 BC Junior Curling Championships in Victoria.
An open playdown this weekend (Dec. 7-8) in Kelowna determined the final Junior Women's berth. Curl BC also awarded two junior men's teams entries after two teams registered for two spots.
There is now a total of eight junior men's teams and eight junior women's teams preparing to travel to Victoria for the 2020 BC Junior Curling Championships. The provincials take place from Dec. 28, 2019, to Jan. 2, 2020. Visit https://www.curlbc.ca/victoria-2020 for event information.
It is an exciting year for BC teams because the top junior women's team and the two top junior men's teams will represent BC at national championships taking place in Langley. The junior men were recently offered that second berth as a result of Nunavut withdrawing from the competition. The New Holland Canadian Junior Curling Championships takes place from Jan. 18-26, 2020, at the George Preston Recreation Centre and Langley Curling Club.
The final junior women's team to book their ticket to Victoria was Team Buchy, who were last year's U18 champions. The rink with connections to Kimberley, Kelowna and Vernon curling clubs features skip Kaila Buchy, third Jaelyn Cotter, second Katelyn McGillivray, lead Cassidy Schwaerzle, fifth Samantha Mclaren and coach Tom Buchy.
The junior men's teams headed to the championships are Team Reed from Golden Ears Winter Club/Royal City and Team Marr from Kamloops. The Reed team is skipped by Thomas Reed and features Kazune Eugene Fei, Adam Fenton and Matthew Fenton. The Marr team is skipped by Colorado Marr and features Bryan Yamada, Zander Landygo and Connor Rafferty.
The Victoria BC championship results will be available at http://playdowns.curlbc.ca/.
Full team rosters:
Junior Men:
Team Sato, Royal City
Skip: Hayato Sato
Third: Matthew McCrady
Second: Joshua Miki
Lead: Jacob Umbach
Coach: Brian Miki/Brent Pierce
Team Ballard, Langley
Skip: Dawson Ballard
Third: Rhett Hildenbrandt
Second: Brandon Reimer
Lead: Sam Husdon
Coach: Dan Wenzek
Team Carpenter, Tunnel Town
Skip: Brayden Carpenter
Third: Connor Deane
Second: Mack Ellis
Lead: Troy Cowan
Coach: Greg Deane
Team Tao, Richmond/Vancouver/Port Moody
Skip: Johnson Tao
Third: Toby Mills
Second: Connor Kent
Lead: Michael Nunn
Coach: Vic Shimizu
Team Colwell, Vernon/Kamloops/Grand Forks
Skip: Erik Colwell
Third: Mitchell Kopytko
Second: Ben Morin
Lead: Logan Miron
Coach: Dale Hofer/Chad Kopytko
Team Parkinson, Nanaimo/Parksville/Comox Valley
Skip: Chris Parkinson
Third: Matthew Davies
Second: Christian Klein-Beekman
Lead: Connor Litton
Coach: Evan Leek
Team Reed, Golden Ears Winter Club/Royal City
Skip: Thomas Reed
Third: Kazune Eugene Fei
Second: Adam Fenton
Lead: Matthew Fenton
Coach: Fuji Miki/Brad Fenton
Team Marr, Kamloops
Skip: Colorado Marr
Third: Bryan Yamada
Second: Zander Landygo
Lead: Connor Rafferty
Coach: Brenda Nordin
Junior Women:
Team Daniels, Delta Thistle
Skip: Sarah Daniels
Third: Sarah Loken
Second: Hannah Lindner
Lead: Jordan Henson
Coach: Katie Witt
Team Taylor, Tunnel Town/Royal City
Skip: Jensen Taylor
Third: Meredith Cole
Second: Keira McCoy
Lead: Chelsea Taylor
Coach: Chris Summers
Team Bowles, Delta Thistle/Victoria
Skip: Elizabeth Bowles
Third: Kayla Wilson
Second: Hailey Dubois
Lead: Sasha Wilson
Coach: Todd Troyer
Team Calhoun, Kamloops
Skip: Maeve Calhoun
Third: Neave Calhoun
Second: Kate Hancock
Lead: Kaitlyn Garrett
Coach: Nicky Hancock
Team Hafeli, Kamloops
Skip: Holly Hafeli
Third: Hannah O'Neil
Second: Jorja Kopytko
Lead: Natalie Hafeli
Coach: Monica Makar
Team Douglas, Gibsons/Duncan/Victoria
Skip: Rebecca Douglas
Third: Brooke Reintjes
Second: Delaena Reintjes
Lead: Bella Higdon
Coach: Dave Douglas
Team Richards, Comox Valley/Port Moody
Skip: Gracelyn Richards
Third: Keelie Duncan
Second: Bryn Woloshyn
Lead: Kate Eisner
Coach: Darren Richards/Adam Duncan/Penny Shantz
Team Buchy, Kimberley/Kelowna/Vernon
Skip: Kaila Buchy
Third: Jaelyn Cotter
Second: Katelyn McGillivray
Lead: Cassidy Schwaerzle
Fifth: Samantha Mclaren
Coach: Tom Buchy
Subscribe to our newsletter
Receive the latest news updates, tournaments, programs, services and discounts.