Teams Arndt, Beck take gold at BC Winter Games
March 27, 2023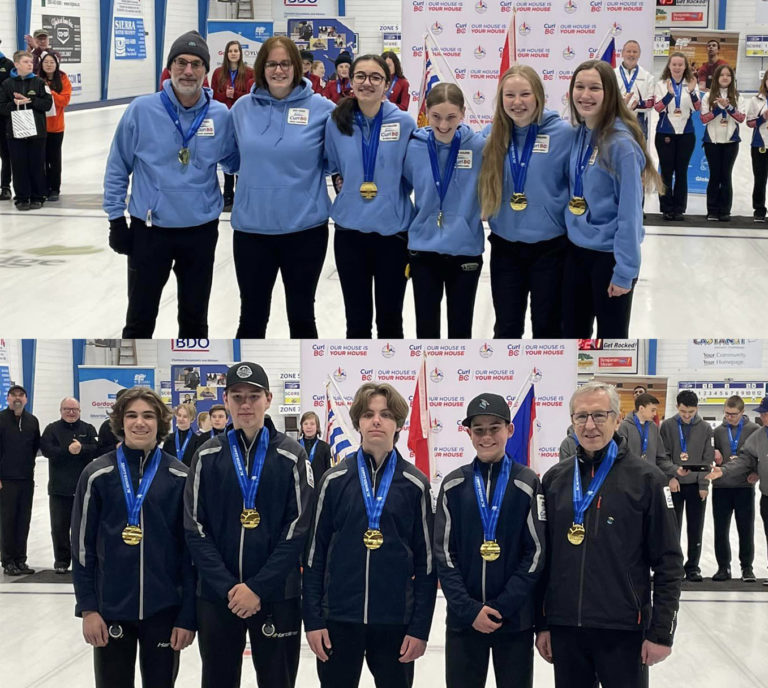 The weekend saw some amazing medal games and hard play by provincial youth curlers at the BC Winter Games in Vernon.
In the girls' bronze medal game, Team Fitzgibbon (Erin Fitzgibbon, skip; Alexandria Halliday, third; Brooke Halliday, second; Sydney Taylor-Hunt, lead) was a force to be reckoned with right out of the gate, putting up deuces left and right against Team Feduniak (Grace Feduniak, skip; Cloe Hidber, third; Savannah Olson, second), until the game ended with a handshake—and a score of 8-1—in the fifth.
The boy's bronze medal game saw Team Chiu (Ethan Chiu, skip; Harrison Hrynew, third; Luke Halmrast, second; Andrew Baker, lead) dominate, starting off with a deuce in the first and keeping the pressure on Team Reynolds (Matthew Reynolds, skip; Keiran Stephan, third; Keith Marks, second; Ahston Lucas, lead; Damian Fischer, alternate) throughout the game's six ends. In the end, Team Chiu took the morning with a score of 10-2.
In the girls' gold medal game, Team Arndt (Ava Arndt, skip; Bethany Evans, third; Ivy Jensen, second; and Alicia Evans, lead) met Team Rempel (Megan Rempel, skip; Parker Rempel, third; Gwyneth Jones, second; Ella Walker, lead) in a gripping contest which saw the score see-saw multiple times, only to wind up tied in the eighth end. In the ninth, Arndt was able to put one up on the board and take the gold, 6-5.
For the boys' gold medal final, Team Jaeger (Owen Jaeger, skip; Spencer Rempel, third; Noah Wielgosz, second; Brenden Hruschak, leab; Dylan Tucker, alternate) was the first to score, with one point in the third, but Team Beck (Kaiden Beck, skip; Nolan Beck, third; Eli Rands, second; Alex Watkins, lead) was quick to counter with a number of big ends, taking the game 9-2 in the seventh.
Subscribe to our newsletter
Receive the latest news updates, tournaments, programs, services and discounts.