Team Sato win BC tiebreaker
January 22, 2020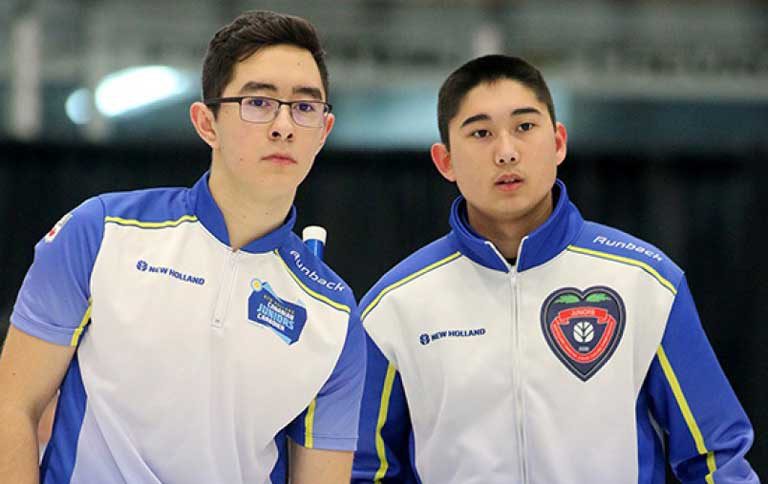 It was an all BC affair in the lone tie-breaker of the 2020 New Holland Canadian Junior Championships from the George Preston Recreation Centre in the Township of Langley, British Columbia.
With Alberta's Ryan Jacques, Team BC's Hayato Sato and BC 2's Johnson Tao all posting 3-3 round robin records in Pool A, tiebreaker protocol had been enacted. To settle the tie, head to head win-loss record was first consulted. Since all three had shared 1-1 records versus one and other, round robin shoot-out scores were used as the next benchmark for the tie-breakers. Alberta was the team with the best shootout score (from their pre-game draws to the pin to determine hammer) and was granted third place in Pool A and a direct berth into the championship round.
Team Sato and Team Tao were left to contest for the fourth and final spot in the Championship Round.
At the beginning of this competition, fourteen men's and 14 women's teams were separated into two seven-team pools per gender for an initial round robin. What follows next is the Championship Round (top four from each pool) leading to the playoffs.
Sato's Royal City Curling Club rink of Matthew McCrady, Joshua Miki, Jacob Umbach, and Brent Pierce (coach) would control play in the tie-breaker and defeat the Richmond Curling Club's Johnson Tao, Toby Mills, Connor Kent, Michael Nunn, and Vic Shimizu (coach) by a score of 7-3 in seven ends.
Now focusing their sights on the Championship Round, third Matthew McCrady feels confident his team is only now beginning to peak.
"It feels really good to win that one. We struggled hard in the last three games of the round robin so being able to come out and play hard this morning was crucial," said McCrady.
While the scoreboard may show a lopsided 7-3 win for Sato's rink, with Tao conceding after seven ends of play, McCrady says the game remained close for its entire duration.
"It felt like we were out-playing them early but as the game progressed, they got significantly better." said McCrady. "When they made shots, it forced us to make some even better ones."
Team qualifying for the Championship Round will carry their current win-loss record in to play as they vie for the playoffs.
At the conclusion of the Championship Round, the top team from the Championship Round advances to its respective final on Sunday, Jan. 26, while the second- and third-place teams meet in a semifinal on Saturday, Jan. 25, to determine the other finalist.
TSN/RDS2 will carry complete live coverage of the semifinals (women at 11 a.m. [all times PT], men at 4 p.m.) on Jan. 25 and finals (women at 9 a.m., men at 2 p.m.).
The winning teams will then represent Canada at the World Juniors in Russia.
All other provincial/territorial representatives will continue play and be sorted into the seeding pool to establish national ranking for the 2021 edition of the Canadian Junior Championships.
Additional Online Reports:
Men — Click here
Women — Click here
For event information, visit www.curling.ca/2020juniors.
Picture copyright Tri City News.
Subscribe to our newsletter
Receive the latest news updates, tournaments, programs, services and discounts.