Team Robillard triumphs at 2021 AMJ Campbell BC Mixed Curling Championship
October 13, 2021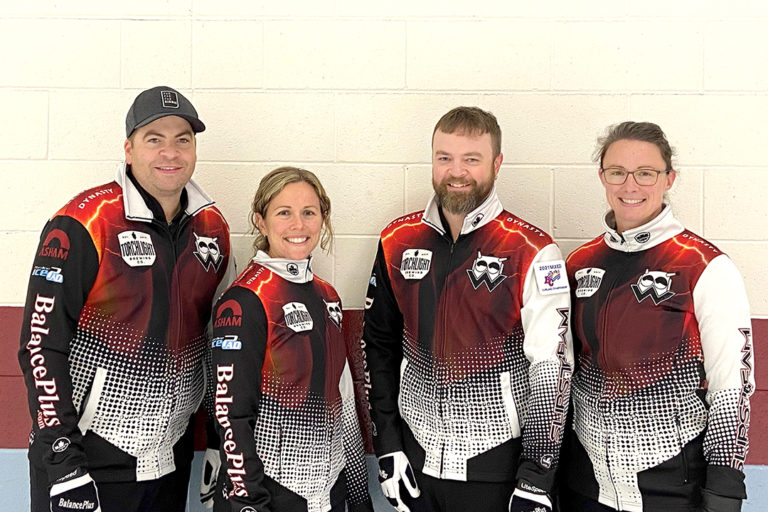 The 2021 BC Mixed Curling Championships, held in Kelowna from October 7-10, saw Team Sebastien Robillard take the title after a number of spirited match-ups.
Made up of Skip Sebastien Robillard, third Karla Thompson, second Nathan Small, and lead Amanda Guido, the team earned a 3-1 record throughout the tournament. Despite one loss (a 7-3 decision to Team McCrady in the playoffs) Team Robillard notched victories against Team Baier in the A Event (10-5), Team Craig in the playoffs (9-3), and then Team McCrady in the final (6-4).
During the regular season, Robillard curls with the Royal City Curling Club in New Westminster, while Small is from the Nelson Curling Club, and Thompson and Guido are from the Kamloops Curling Club.
In all, nine teams took to the ice for the event:
Team Mary-Anne Arsenault – Dave Stephenson (3rd), Lisa Stephenson (2nd), Alan Shepherd (lead)
Team Chris Baier – Stephanie Jackson-Baier (3rd), Cameron de Jong (2nd), Carley Sandwith-Craig (lead)
Team Tom Buchy – Kaila Buchy (3rd), Dave Toffolo (2nd), Jaelyn Cotter (lead)
Team Miles Craig – Shawna Jensen (3rd), Rhys Gamache (2nd), Laryssa Legan-Dykstra (lead)
Team Peter Lang – Kym Neutel (3rd), Craig Coyne (2nd), Heather Lawrence (lead)
Team Matthew McCrady – Kayla MacMillan (3rd), Cody Tanaka (2nd), Sarah Loken (lead)
Team Sebastien Robillard, Karla Thompson (3rd), Nathan Small (2nd), Amanda Guido (lead)
Team Matt Tolley – Alyssa Kyllo (3rd), Jason Larence (2nd) Jenna Denton (lead)
Team Steve Wright – Sarah Daniels (3rd), Ernie Daniels (2nd), Megan Daniels (lead)
Team Robillard will now represent BC at the 2021 Canadian Mixed Championships, which takes place in Canmore, AB, November 7-14th, 2021
Subscribe to our newsletter
Receive the latest news updates, tournaments, programs, services and discounts.