Team Pierce brings home a nail-biter win in 2023 BC Men's Semi-Final
January 14, 2023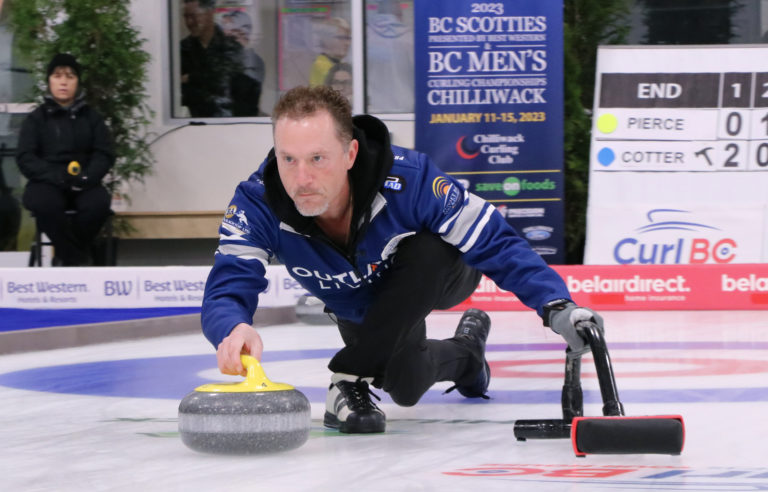 This Saturday night draw saw a classic BC Men's Curling Championship matchup between Team Cotter (Vernon, Kelowna, Kamloops) and Team Pierce (Royal City) in semi-final action. This 2023 version was just as exciting as every other time these veteran skips have faced each other over the years, with a spot in the final on the line.
A near-perfect first end from Team Cotter set up a draw to the four foot for skip Jim Cotter to solidify the deuce.
In the second end, skip Brent Pierce was forced to make a precise draw to the side of the four foot for the single. A great weight call to ensure the rock finished just right was made by lead Nick Meister and second Jared Kolomaya.
The third end was Team Pierce's turn to force Team Cotter to a single. With Jim Cotter facing two opposing stones in the house on his last, he played the easy hit and stick for one.
Jeff Richard, third for Team Pierce, made a fantastic line call in the fourth end to elicit a perfect hit and roll to force Team Cotter into a tricky runback. Team Cotter wasn't able to navigate the shot perfectly, leading to a Team Pierce deuce.
In the last end before the break, there was an unfortunate pick on a Team Pierce shot that allowed Team Cotter to clean up a messy house to set up their deuce.
The second half of the game was just as the first was – full of precision, great shot making and intensity. There was never a clear leader in this game, right until the tenth end. Team Cotter was up two points without the hammer coming home. However, it was Team Pierce capitalizing off of a few key misses to score three in the last end to secure their spot in the final, with a score of 9-8.
Team Pierce will face Team Gauthier (Victoria) tomorrow at 2:00pm in the final.
A huge shout out to the City of Chilliwack for their incredible hosting and hospitality. Competitors and fans alike truly enjoyed their time in the city. Thank you for an amazing event!
Catch all of the action on www.youtube.com/@CurlBCTV/streams or on CHEK/CBC.
This event is supported in part by grants from the Province of British Columbia, Hosting BC, Tourism BC, and viaSport BC.
Subscribe to our newsletter
Receive the latest news updates, tournaments, programs, services and discounts.