Team Macdonald win BC wheelchair title
February 04, 2020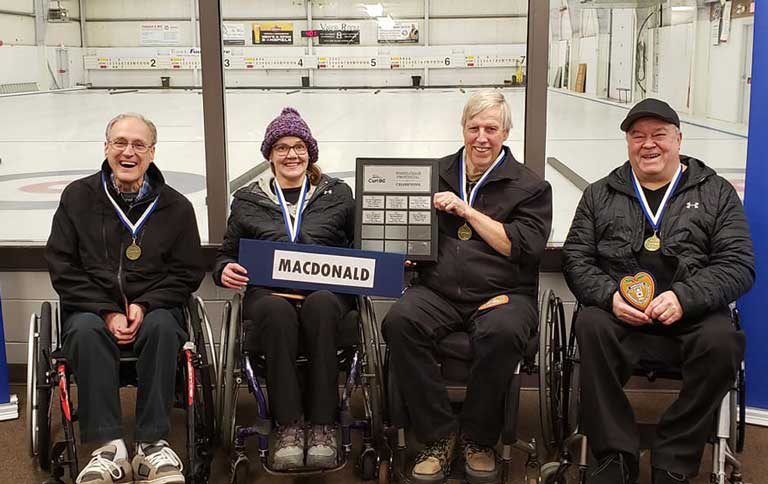 Team Macdonald have been crowned the top wheelchair curling team in BC.
The 2020 BC Wheelchair Curling Championship wrapped up at Cloverdale Curling Club on Sunday (Feb. 2).
Team Macdonald representing Tunnel Town won the gold medal in the four-team event. The team features Bob Macdonald (Tunnel Town/Marpole), Alison Duddy (Quesnel), Gary Cormack (Cloverdale) and Vince Miele (Tunnel Town/Marpole/Richmond).
This was Macdonald's fourth BC wheelchair title, Duddy's sixth BC wheelchair title, Cormack's eighth BC wheelchair title and Miele's fifth BC wheelchair title.
The team beat defending champions Team Neighbour in a nail-biting final on the way to the gold medal. The Neighbour team features two gold medal winning Paralympians, Darryl Neighbour from Richmond and Ina Forrest from Armstrong.
Macdonald said he felt great about the win and was looking forward to nationals: "I had a great team behind me. We shook things up and tried a few different players and it was a great team effort."
He said all the games were pretty close and the final was no different.  The team managed to keep pressure on in the last end, though, forcing team Neighbour into a difficult draw to the button which was only heavy by inches.
The Macdonald rink heads to nationals April 25-30 with the competition going ahead at Club de curling de Boucherville in Boucherville, Que.
Zosia Ettenberg of Langley won the BC wheelchair curling championship's inaugural sportsmanship award.
The Neighbour rink, rounded out by third Ellis Tull (Nanaimo), second Frank LaBounty (Prince George), lead Janice Ing (Vancouver), fifth Ina Forrest (Armstrong), and coach Vic Shimizu, won the silver medal.
Team Austgarden, featuring Gerry Austgarden (Kelowna), Rick Robinson (Surrey), Marney Smithies (Delta), Tracy Boyd (Langley) and coach Sharon Morrison, were awarded the bronze medal.
Zosia Ettenberg skipped a team into fourth place. Mildred Thomas played  third, Robert Pullen played second and Jeff Smithies played lead.
The draw and scores for the event are available at http://bot.curlbc.ca//web/Comp?compid=3142.
Anyone interested in trying wheelchair curling should check out the Friday sessions at Delta Thistle Curling Club.
Subscribe to our newsletter
Receive the latest news updates, tournaments, programs, services and discounts.