Team Kyllo/Griffith triumphant at Vernon's Nufloors Mixed Doubles Curling Classic
October 24, 2022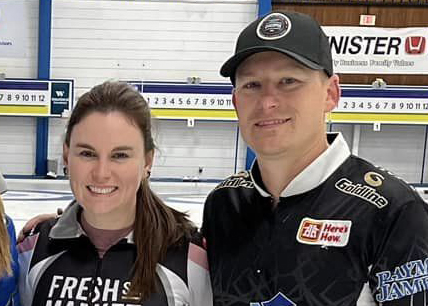 The 2022 Nufloors Mixed Doubles Curling Classic finished up at the Vernon Curling Club yesterday, and, as usual, it did not disappoint. Featuring a who's-who of former BC Champions in the field and some thrilling on-ice action, the event was an extravaganza of high performance curling from start to finish.
After a spirited preliminary round of pool play, Team Alyssa Kylo/Tyrel Griffith, Team Jaelyn Cotter/Jim Cotter, and Team Sarah Wark/Andrew Nerpin moved straight ahead to the semi-finals.
With multiple teams tied at 2-2 for the fourth and final playoff berth,  tie-breaker games provided additional suspense as Team Holly Hafeli/Mitchell Kopytko, Team Brette Richards/Jeff Richard, Team Karly King-Simpson/Connar Croteau and Team Maia Belway/Cam Weir did battle in the tie-breaker match-ups. Team Hafeli/Kopytko won their way through the two tie-breakers with wins over Richard/Richard and King-Simpson/Croteau respectively.
During the semi-finals, Team Cotter/Cotter defeated Team Hafeli/Kopytko 7-6 in a tightly-matched battle, and Team Kyllo/Griffith topped Team Wark/Nerpin 8-6 with a handshake in the sixth, setting up the championship card.
In the final, Team Cotter/Cotter pulled ahead with a big five-point second end, but they just couldn't stop Team Kyllo/Griffith from racking up a couple of points per end and pulling ahead by two in the eighth, winning the championship game a high scoring 10-8 affair between the former teammates.
Subscribe to our newsletter
Receive the latest news updates, tournaments, programs, services and discounts.