Team Joanisse takes gold at Salmon Arm's Twin Anchors Houseboat Vacations Cashpiel
November 14, 2022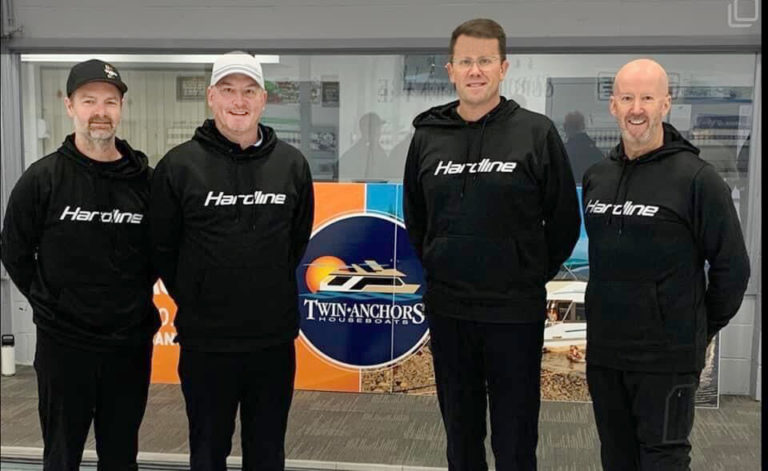 The 2022 Twin Anchors Houseboat Vacations Cashpiel, held over the weekend at the Salmon Arm Curling Centre, proved once gain that the Shuswap region is a hotbed of curling.
In all, eight men's rinks met on the ice to compete for $10,000 in prize money: Team Chris Medford (Cranbrook), Team Dean Joanisse (Maple Ridge), Team Mark Longworth (Vernon), Team Rob Nobert (Vernon), hometown favourites Team Sean Geall (a former BC champion along with fellow Salmon Armer Darin Gerow), Team Dave Belway (featuring fellow Salmon Armer Dave Long), Team Case, and a junior rink, Team Nolan Blaeser,  featuring 2022 BC High School Champs Kaiden & Nolan Beck from Salmon Arm.
Originally, Team Hyato Sato, who won last month's Crown of Curling in Kamloops and whose skip is a former BC resident, was seen as the front-runner in this event. The team had to pull out at the last minute due to illness, however, breaking the spiel wide-open.
Despite some excellent play and hard-fought battles, only four teams could emerge from pool play and into the playoff round: in the semi-finals Team Geall turned an early lead over Team Nobert into a 7-3 win, and Team Joanisse defeated  team Longworth in a 7-3 tilt that ended with handshakes in the seventh.
In the championship game, Team Joanisse racked up an insurmountable 5-point lead by the fourth. Team Geall gave it one more try, but then ended it with handshakes after the fifth, giving Joanisse an impressive 8-4 victory in their first BCCT event of the 2022-23 season.
Subscribe to our newsletter
Receive the latest news updates, tournaments, programs, services and discounts.