Team Gauthier triumphs over defending champs Team Pierce in 2023 BC Men's Curling Championship final
January 15, 2023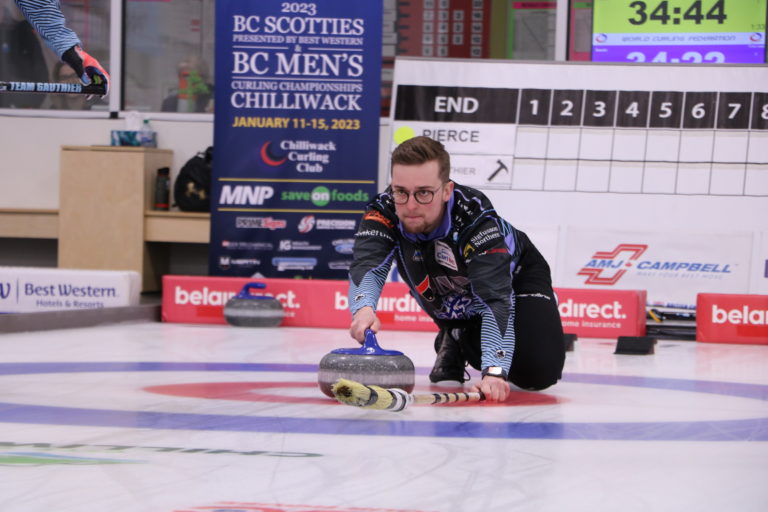 With the women's champion declared already, it was time for the men's teams to take the ice in the final draw. Seats were filled with fans all around the Chilliwack Curling Club and many were ready to watch an intense final.
Team Gauthier (Victoria) was back to being a four-man team, ready to make an attempt to dethrone Team Pierce (Royal City). A perfect first end from Team Gauthier got them two points to open the game. They were then able to force Team Pierce into a draw to the four foot in the second end for a single point, capitalizing off some key misses throughout the end. The third end did not end up setting up for Team Gauthier and they chose to blank the end. In the fourth end, it was Team Pierce's turn to post a perfect end, forcing Team Gauthier to draw for their single. The fifth end was very open, but Team Pierce managed to score two points due to a missed double from Team Gauthier. With that, it was tied 3-3 heading into the break.
Team Gauthier started the second half with the hammer. Play was concentrated around the center of the sheet for most of the sixth end, and Team Gauthier made a fantastic triple to clear the house of opposing rocks on their last shot to score two points. The seventh end saw a huge cleanup at second's rocks from Team Pierce to keep it open, but an unfortunate jam on a late hit forced them to the single. A messy eighth end didn't leave much room for Team Gauthier to score, and they ended up allowing a steal of a single point. With the game tied up heading into the ninth end, the intensity was at an all time high. Some precise hits from Team Gauthier, paired with some key misses from Team Pierce allowed the team from Victoria to go up by three points headed into the closing end. Well-executed gameplay in the last end pushed Team Gauthier to victory.
Team Gauthier took the game and the BC Men's title 8-5, after running Team Pierce out of rocks.
Team Gauthier will go on to represent Team BC at the 2023 Tim Horton's Brier in London, ON from March 3-12, 2023.
Congratulations to the medallists and competitors.
GOLD – Team Gauthier (Victoria)
Skip: Jacques Gauthier
Third: Sterling Middleton
Second: Jason Ginter
Lead: Alex Horvath
Coach: Bryan Miki
SILVER – Team Pierce (Royal City)
Skip: Brent Pierce
Third: Jeff Richard
Second: Jared Kolomaya
Lead: Nicholas Meister
BRONZE – Team Cotter (Vernon, Kamloops, Kelowna)
Skip: Jim Cotter
Third: Grant Olsen
Second: Andrew Nerpin
Lead: Rick Sawatsky
Fifth: Tyrel Griffith
This event is supported in part by grants from the Province of British Columbia, Hosting BC, Tourism BC, and viaSport BC.
Subscribe to our newsletter
Receive the latest news updates, tournaments, programs, services and discounts.