Team Fenton/Bowles victorious at Canada Winter Games Mixed Doubles Qualifier in Barriere
December 05, 2022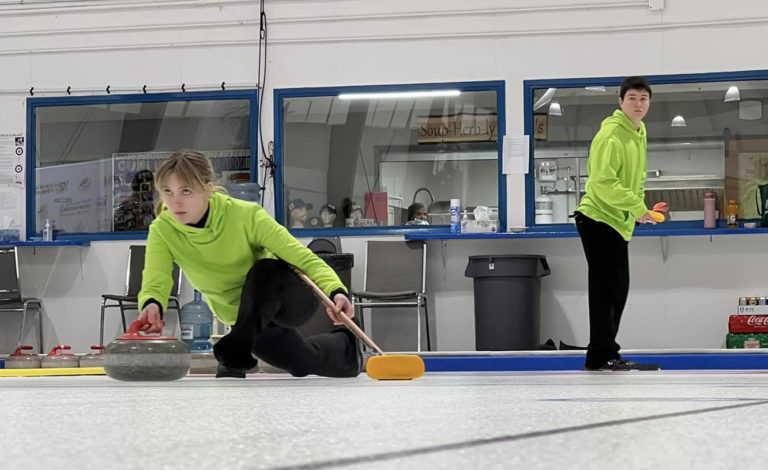 This past weekend, eight U20 teams met at the Barriere Curling Club for the first-ever Canada Winter Games Mixed Doubles Qualifier.
After the Triple-knockout preliminary round, just four teams were standing to face each other in the playoffs: Teams Wong/Duncan-Wu, Bowles/Fenton, Brissette/Fadden, and Kopytko/Yamada.
Draw Seven saw Team Wong/Duncan Wu defeat Team Bowles/Fenton 9-6 and advance to the final, while Team Brissette/Fadden dispatched Team Kopytko/Yamada 9-7, setting up one more playoff game.
In Draw Eight, Team Bowles/Fenton defeated Team Brissette/Fadden 11-8, punching their ticket to the final. Although that was the end of the line for Team Brissette/Fadden, they took consolation in a bronze medal (additionally, Coburn Fadden was awarded the most sportsmanlike competitor at the event)
In the closely-matched final, Team Wong/Duncan-Wu started out strong with a three-point first end, but Team Fenton/Bowles kept chipping away at their lead, finally pulling ahead in the sixth and not letting up until they emerged victorious with a final score of 7-5.
Team Fenton/Bowles will now go on to represent British Columbia in the 2023 Canada Winter Games in Prince Edward Island as Team BC (the winners of the already-completed four-person BC qualifiers, Teams Rempel and Team Parkinson, will join them).
The games, which will be held from February 18th to March 5th, 2023, will bring together 3,600 athletes across 20 different sports, for the largest multi-sport event in the country. With curling events held at the Montague Curling Club, in Montague, PEI, the Mixed Doubles category is being held for the first time in the Games' history, and will be a welcome addition alongside the U18 Boys and U18 Girls events already in place. This addition reflects the Olympic Games, and is in alignment with the Long-Term Curler Development Model and Podium Pathway for the sport of Curling.
With alumni such as Jennifer Jones, Kaitlyn Lawes, and Marc Kennedy, the Canada Winter Games has been an important stepping stone on the route to Olympic gold. Along with the BC Games and Olympics, the Canada Games offer one of only three opportunities along the long term curler development pathway for curlers to experience a multi-sport games representing their zone, province and country.
Special thanks to the Barriere Curling Club for making the 2023 Canada Winter Games Mixed Double Qualifier such a meaningful experience for the competitors, coaches and their family and friends who made the trip to your welcoming community.
Subscribe to our newsletter
Receive the latest news updates, tournaments, programs, services and discounts.