Team Bowles tops in Victoria's Optimist Junior Classic
November 14, 2022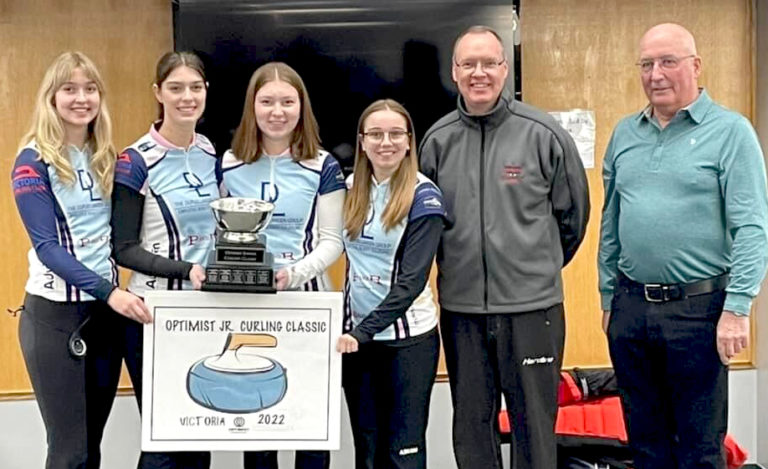 The 12th annual Victoria Optimist Junior Curling Classic Cashpiel took place at the Esquimalt Curling Club on the weekend, bringing some of BC's finest junior curlers together for an exciting showdown.
From November 11-13, Five teams took to the ice for the Classic: Team Chris Parkinson, Team Holly Hafeli, Team Emily Bowles, Team Kaelen Coles-Lyster, and Team Keelie Duncan. The event was set up in a 5-team "open" round-robin format, followed by a 1 vs 2 and 3 vs. 4 championship.
The round-robin results were as follows:
Team Bowles 3-1
Team Hafeli 3-1
Team Duncan 3-1
Team Parkinson 1-3
Team Coles-Lyster 0-4
After much spirited competition in the round-robin, Team Emily Bowles' 3-1 record earned them the number one seed and a shot at the championship. Likewise, Team Hafeli, with a matching 3-1 record at that point, also advanced to the final.
Despite their identical records, the gold medal game saw Team Hafeli stumble, and Team Bowles press on hard, winning the title with a score of 12-2.
This is the second BC Junior Curling Tour win for team Bowles, who also won the Anita Cochrane Junior Cashpiel in September. They're coached by Paul Tardi.
Team Duncan finished third, team Parkinson finished fourth, and Team Coles Lyster came in fifth.
Cash prizes are as follows:
1st place – $900
2nd place – $700
3rd Place – $500
4th place – $300
5th place – $150
The event was organized by long-time event volunteer coordinator Murray Walker. The sponsor, Optimist International, is a worldwide volunteer service organization made up of more than 2,500 local clubs whose members work to make the future brighter by bringing out the best in children, in their communities, and in themselves.
Many thanks to umpire Kathy MacKenzie and Paul Adison and the talented crew of officials who oversaw the games.
Subscribe to our newsletter
Receive the latest news updates, tournaments, programs, services and discounts.