Skilled curlers amp up Salmon Arm's Twin Anchors Houseboat Vacation Classic Cashspiel
November 09, 2022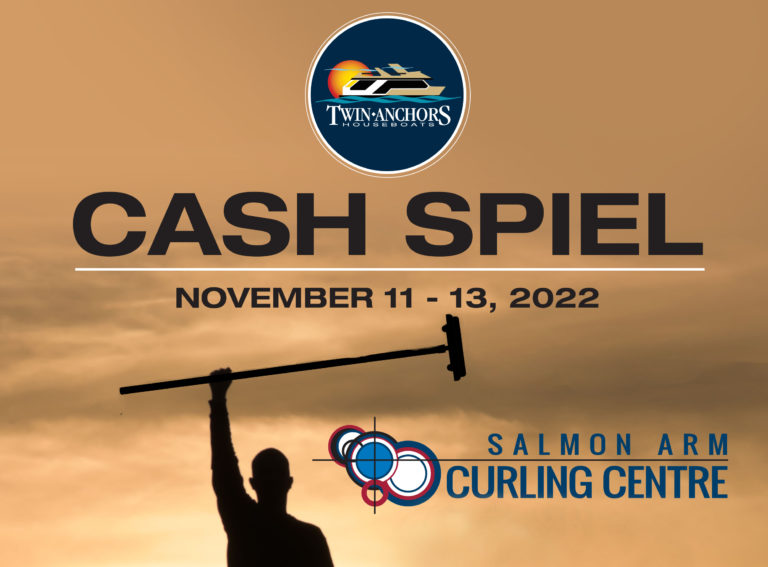 There's some big action coming to the Shuswap area, as the Twin Anchors Houseboat Vacation Classic Cashspiel rolls into town this weekend.
Over three days, November 11-13, eight men's teams—local, regional, provincial, and national—will meet at the Salmon Arm Curling Centre to compete for glory and $10,000 in prize money.
With skilled BC tour veterans like Team Chris Medford (Cranbrook), Team Grant Dezura (Maple Ridge), Team Mark Longworth (Vernon), Team Rob Nobert (Vernon) and hometown favourites Team Sean Geall (a former BC champion along with fellow Salmon Armer Darin Gerow) and Team Dave Belway (featuring Dave Long), plenty of exiting action is guaranteed.  There's also a junior rink in the mix, Team Nolan Blaeser, which features 2022 BC High School Champs Kaiden & Nolan Beck from Salmon Arm.
It looks like the team to beat, however, will be Team Hyato Sato, representing Japan. Fresh off their first-place win at the Kamloops Crown of Curling last month—in which they brought down reigning BC men's champs Team Brent Pierce—Team Sato's skip is a former BC resident who now lives in Sapporo, and has competed in BC and Canadian junior championships, including the 2018 U18 provincials, which were held that year in Salmon Arm.
Fans are encouraged to come down to the Salmon Arm Curling Centre and watch all the action in person. Admission is free, and it's a great opportunity to see curling played at a very high skill level.
The competition schedule is as follows:
Draw 1 – Friday 1PM
Draw 2 – Friday 4:30PM
Draw 3 – Friday 8PM
Draw 4 – Saturday 10AM
Draw 5 – Saturday 2PM
Draw 6 – Saturday 7PM
Semi Finals – Sunday 9AM
Finals Sunday 1PM
This event is funded, or funded in part, by viaSport BC and the Province of British Columbia.
Subscribe to our newsletter
Receive the latest news updates, tournaments, programs, services and discounts.