Rossland Curling Society Celebrates 125th Anniversary
November 20, 2023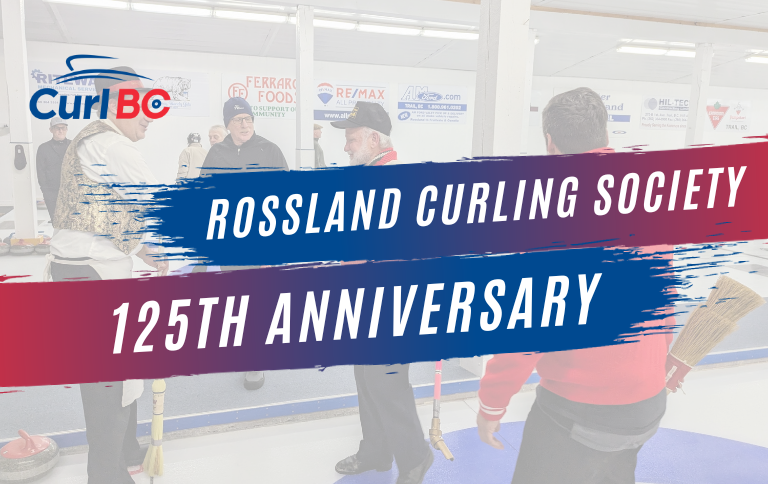 The Rossland Curling Society marked a historic milestone with the celebration of its 125th anniversary during the recent Heritage Bonspiel. The event showcased the rich legacy of curling in Rossland, honoring the dedicated individuals who have contributed to the sport's enduring success.
Heritage Bonspiel
The Heritage Bonspiel was a resounding success, bringing together 24 teams from Rossland and the surrounding areas. The festivities kicked off with a memorable Friday night ceremony, where the renowned Rossland Cup (dating back to 1898) was carried to the ice by two RCMP officers and a bag-piper. The cup was then officially inaugurated with a ceremonial first rock thrown by Jim Albo, a longstanding volunteer and representative of three generations involved in Rossland Curling. The night continued with the captivating tunes of the Golden City Fiddlers, setting the stage for an unforgettable weekend.
Saturday night saw the celebration move to the historic Miners Hall in Rossland, where a banquet dinner and dance unfolded. The Boomtown Garter Girls provided lively dinner entertainment, followed by spirited dancing to the tunes of the River Rockers band. With 150 guests in attendance, the evening was a testament to the community's enthusiasm for both curling and celebration.
The festivities extended into Sunday with a community open house, inviting locals to explore the newly renovated lounge, delve into historical displays, and witness the gripping finals of the bonspiel.
125 Years of Dedication
The 125th Anniversary celebration served as a tribute to the generations of curlers and volunteers who have sustained curling in Rossland. Over the years, the curling community estimates that more than a million rocks have been thrown and over 30,000 miles of sweeping accomplished—a testament to the enduring passion for the sport.
Volunteerism has been a cornerstone of the society's success, reaching unprecedented levels in recent times. The extensive summer renovations, predominantly driven by volunteers, have transformed the facility into a hub of warmth and pride, providing a solid foundation for the next 125 years.
Rossland Curling has weathered numerous challenges throughout its history, including the loss of an earlier rink, a hiatus during the volunteer construction of the current facility in the 1950s, and the recent pandemic. The club's survival through these trials can be attributed to dedicated volunteers and prudent financial management, ensuring a strong financial position even in the absence of grants and community funding.
Looking Ahead
As Rossland Curling looks to the future, the main goal is to sustain the momentum built over the past two seasons. Plans include incorporating more paid work to support volunteers and continuing the modernization of governance, policies, and operations. With a solid financial foundation, the society is poised to navigate the next 125 years with the same passion and resilience that has defined its storied history.
Information and photos provided by:
Frank Conradie,
Vice President, Rossland Curling Society
Subscribe to our newsletter
Receive the latest news updates, tournaments, programs, services and discounts.