Rising Stars Shine In Pilot Triples and Doubles Event
July 11, 2023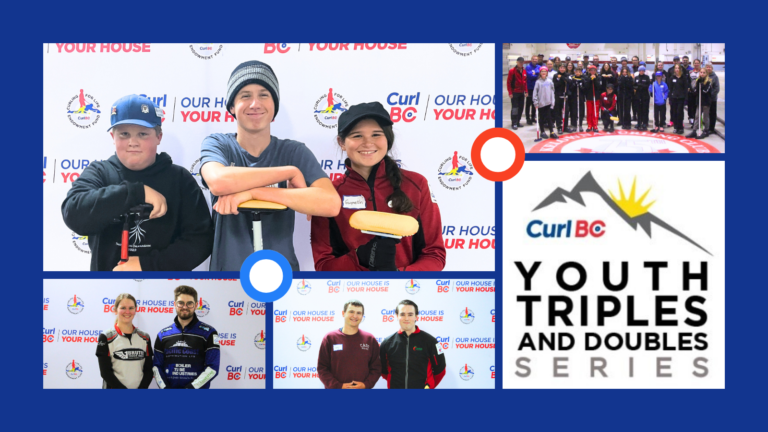 Wow! Did we have a blast!
On July 10th, yes you got that right, Curl BC piloted our first one day youth triples and doubles event in Kelowna BC. Youth from across zone 2 hailed from Kamloops, Kelowna, Penticton, Salmon Arm, and Vernon This event was hosted at the Kelowna Curling Club, who is known for piloting new programs and activities. These athletes were supported by an experienced group of coaches Wendy Cseke, Tyler Jaeger, Brian Lyall, Betty Raymond, and Gary Raymond to enhance the on-ice experience.
The doubles event was aimed at ages 16-24 and consisted of 8 teams and after the ice chips settled there were four teams tied for first place! It came down to the draw to the button to determine this year's winners. Congratulations to our Kelowna finalists Team Fadden/Kopytko (Kamloops) for their second-place finish, and to Team Simms/Cowell (Salmon Arm) for taking home the 2023 Kelowna Doubles Title.
The Triples event was aimed at U15 youth, with a roster replacement of one over-aged athlete to fill out a last-minute opening. Playing triples was new to all participants and together we learned, competed, and had fun.  The best part about this event is everyone switched positions every 2nd end, and the scoring system allowed for every team to have a chance to win up until the last end. Congratulations to our Kelowna Champions Owen Jaeger, Spencer Rempel, and Noah Weilgosz (Kelowna) for taking home the 2023 Kelowna Triples title.
In addition to the curling was an off-ice trivia contest for each event during lunch. Our doubles trivia champions were teammates Coburn Fadden and Jorja Kopytko and our triples trivia champions were Gwyneth Jones, Dylan Tucker, and Noah Thewlis.
Thank you to all of the athletes who competed, our coaches for your expertise, and the Kelowna Curling Club for your hospitality to make our inaugural event a rocking success.
Curl BC is looking to add more locations to host our triples and doubles youth series during the 2023-24 season. To host an event in your community, fill out our online form here
Learn more about the Triples rules here
Subscribe to our newsletter
Receive the latest news updates, tournaments, programs, services and discounts.