Richards Junior Curling Scholarship Gives Back to the Curling Community
August 25, 2022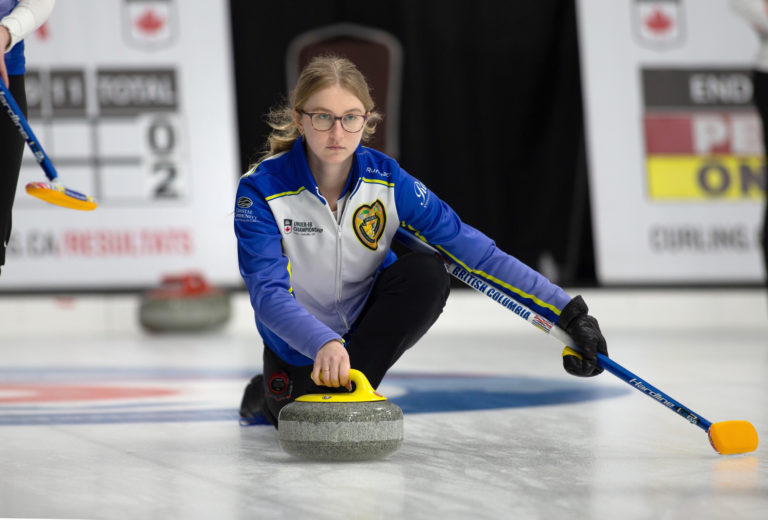 Thanks to the efforts of BC U18 champion skip Gracelyn Richards, the brand-new Richards Junior Curling Scholarship will help raise the hopes of all young curlers.
"I was searching for a way to give back to the curling community and create a meaningful impact for other junior curlers that love the sport as much as I do," says Richards. "I had previously applied for scholarships myself, and I noticed a lack of curling specific scholarships in BC, which led me to the idea."
Created in honour of her home ice, the Comox Valley Curling Club, the $500 scholarship is Richards' way of giving back to the community which gave her so much.
"It's a tribute to the generosity, support, and opportunities that were provided to myself and Team Richards throughout my junior curling career. It's hard to put into words how much curling means to me. Thanks to my dad, curling has been a huge part of my life since I was six years old. The support, encouragement, travel experiences, lifelong friendships, and personal growth have made me who I am today, as a person and competitive curler.
"I have learned that perseverance, dedication, and hard work is what makes a team—and lots and lots of practice. This scholarship is a true representation of the love I have for curling, and the people that have supported me on my journey."
The scholarship is open to all under-21 curlers in BC who are looking to continue curling at the post-secondary level, and will open annually on January 1st, closing at midnight on March 31st.
Applicants must submit an application in full, and provide two reference letters (one must be from someone they know in the curling community) as well as proof of enrollment at a post-secondary institution. The successful applicant will have shown dedication to the sport, committed to pursuing a high level of competition, and shows passion and love for the curling.
For Richards, the idea of a scholarship began as a 12-grade Capstone Project, which encourages students to reflect on their learning experiences in and out of school, assess their own core competencies, and share highlights of their education.
"I knew that curling was going to be my focus for my capstone," says Richards, "and my original goal was to raise three years' [$500 per year] worth of funds within two months. I have now successfully raised enough to last for four years through a variety of fundraising methods—Hardie Honey offered me the opportunity to sell 1 kg jars of honey, I sold pizza coupons through Panago, held a garage sale, collected and returned bottles, did yard work and was fortunate enough to receive some cash donations. I can't thank my family, friends, and the curling community enough for their support."
"My ultimate goal," she continues, "is that the Richards Junior Curling Scholarship will offer financial aid to curlers looking to continue competing while attending post-secondary. Being a competitive curler can be costly, and I hope that this scholarship can offer some monetary help to the successful applicants while they pursue their curling endeavours."
For a scholarship application form, please click here: https://forms.gle/P7AjwqNrCJLNugdX8.
For further information, please email r.juniorscholarship@gmail.com.
Subscribe to our newsletter
Receive the latest news updates, tournaments, programs, services and discounts.