Prestigious award for Dianne Barker
March 30, 2020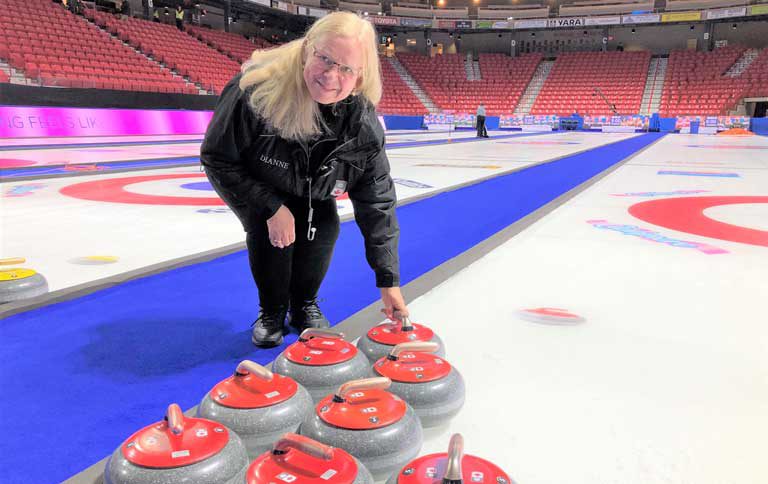 Curling official Dianne Barker of Kamloops has been awarded the Daryl Thompson Lifetime Achievement Award.
The award is presented to an individual who has contributed time in an extraordinary way to sport over a long period of time and has made a major contribution to amateur sport in the province.
The award was due to be presented to Dianne at the opening banquet during the World Women's Curling Championship in Prince George, where she was preparing to be head official. While the event had to be cancelled, Dianne is still very much being honoured.
Dianne began her career as an official in 1986 and has gone on to umpire at the Olympics in Vancouver, Sochi, and Pyeonghang. She has also officiated at countless world championships.
As many people in the BC curling community know, Dianne is beyond generous with her time and knowledge of the
sport. She gives unselfishly to help the sport and its participants and is an inspiration for the entire officiating community.
"For over three decades, our Daryl Thompson Lifetime Achievement Award recipient Dianne Barker has truly made a difference in the sport of curling, within our province and beyond," Sport BC president and CEO Rob Newman said.
"I am humbled and honoured to be selected," Dianne said. "I am very appreciative to Curl BC for the nomination and to the Sport BC board of directors who deemed me to be worthy of it."
The award is named after the late Daryl Thompson an inspiring former Chair of Sport BC. Thompson is a BC Sports Hall of Fame member (1984) and was recognized as both an outstanding athlete and an energetic builder, dividing his time between competition, coaching, and administration for both badminton and tennis.
Photo copyright Moose Jaw Today.
Subscribe to our newsletter
Receive the latest news updates, tournaments, programs, services and discounts.