Penticton Curling Club will host the 2023 AMJ Campbell BC Mixed Championships
August 25, 2022

Curl BC is happy to announce that the Penticton Curling Club will host the 2023 AMJ Campbell BC Mixed Championships, from February 28th– March 5th, 2023.
The Penticton Curling Club is no stranger to bringing major events to the Penticton community, having successfully staged the national Scotties Tournament of Hearts in 2018, with an economic impact of over $6 million. The club also welcomes the world's best curlers to BC each season when it hosts the World Curling Tour's Nufloors Penticton Curling Classic, an annual bonspiel with a purse of $84,000 that attracts some of the top curling teams in the world.
"There's always a great deal of interest from across the province in hosting this event, because it attracts recreational, competitive and high-performance competitors. It's focused on being a social and competitive experience for all teams, but the Penticton Curling Club has a strong history in raising the bar anytime they host a championship. It made our decision to award the event to Penticton very easy," said Lindsay Shannon, Curl BC's Administrative Manager.
"The South Okanagan will put on a great show," she continued, "not only for the curlers and their families, but also for fans from across BC who visit or watch through our livestreaming services. I'm confident this will be an event remembered for years to come."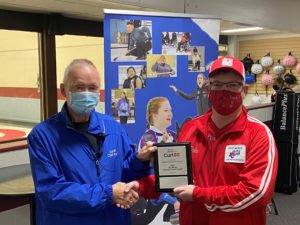 Teams entering this open entry BC championship can expect an experience that includes an opening ceremony, social events, banquet, officiated play, championship ice conditions, online scoring and live-streaming of games. In addition to that, Curl BC provides recognition of competitors, the host community, and volunteers leading up to, during, and following each championship.
This year the preliminary round format will be a triple knockout, leading to a playoff format based upon the total number of entries. The length of the event will be dependent on the total number of entries, and will be communicated after the registration deadline of December 28th, 2022. Teams must plan to be available from Tuesday-Sunday when registering for this event.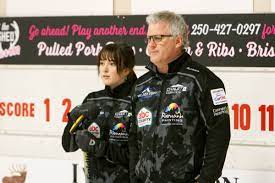 The 2022 AMJ Campbell BC Mixed Championships attracted 13 teams to the community of Kimberly. The championship title was won by Team Craig (Miles Craig, Stephanie Jackson-Baier, Chris Baier, Carley Sandwith-Craig) representing the Victoria and Duncan Curling Clubs. They will now go on to serve as Team BC at the 2022 National Mixed Championships in Prince Albert, Saskatchewan from November 6-12th, 2022.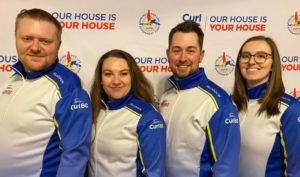 The winners of the 2023 AMJ Campbell BC Mixed Championships in Penticton will earn the right to represent BC at the National Mixed Championships, currently scheduled for November 5th-11th, 2023.
Registration will open on July 7th, 2022 for all 2023 Curl BC Competitive Categories.
Subscribe to our newsletter
Receive the latest news updates, tournaments, programs, services and discounts.