Parksville ice set for the 2023 Connect Hearing BC Masters Championships
February 21, 2023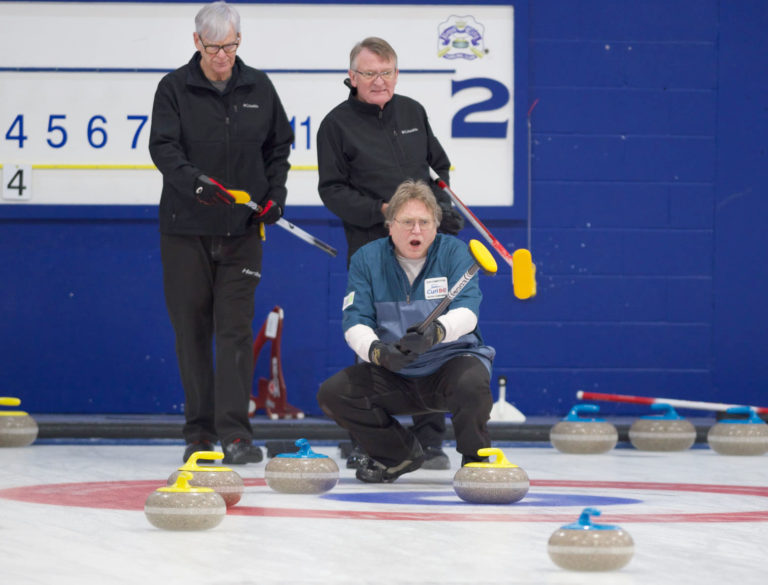 The 2023 Connect Hearing BC Masters kicks off this week at the Parksville Curling Club, with five days of thrilling draws. The event, which runs from Wednesday, February 22nd to Sunday, February 26th,  showcases curlers age 60+, and the action begins with a triple-knockout round robin preliminary draw. In all, six women's teams and nine men's teams will compete.
Behind the scenes, this event was made possible by a talented and dedicated group of people, including the host committee, spearheaded by Penny Shantz in the run-up to the event, Bruce Beaudry, the club's BC Masters Fundraising Director, head icemaker Tim Kottsieper and his crew, Chief umpire Kathleen McKenzie, Jim Hoffman, who organized all the officials, as well as an army of volunteers.
The Masters have also been made possible through the generosity of named sponsor Connect Hearing, and presenting sponsor Setter and Associates—RE/Max of Nanaimo.
Last year's women's Masters title was won by Parkville's own Team Shantz led by Penny Shantz, Cindy Curtain, Janet Suter, Shirley Wong and Keren Ruus, while the men's winner was Vancouver Island's Team Craig consisting of Wes Craig, Ron Schmidt, Tony Anslow, Victor Gamble. Both teams are back this year to defend their titles.
The women's championship final will be held at 2:00pm on Saturday, February 25, while the men's final takes place at 10:00am on Sunday, February 26th. The winners of this year's BC Masters will go on to the 2023 Canadian Masters Curling Championships, to be held at the Thistle- St. Andrews Curling Club in Saint John, New Brunswick on April 3rd to 9th, 2023.
Your 2023 BC Masters women's competitors are:
Team Erdos (Nanaimo)
Debbie Erdos, Skip
Teri Palynchuk, Third
Zorka Smith, Second
Kilby Howat, Lead
Team  Shearer (Parksville)
Leslie  Shearer, Skip
Susan Chepil, Third
Peggy Aikman, Second
Carol Dorman, Lead
Team Mychaluk (Royal City/Langley)
Donna Mychaluk, Skip
Danielle Shaughnessy, Third
Victoria Murphy, Second
Nancy Stagg, Lead
Team Konyer (Nanaimo)
Mary Ellen Konyer, Skip
Carol Tromans, Third
Kellie Rice, Second
Lorna Black, Lead
Team Shantz (Qualicum/Parksville/Penticton)
Penny Shantz, Skip
Cindy Curtain, Third
Shirley Wong, Second
Janet Suter, Lead
Team Klebe (Chilliwack/Richmond/Cloverdale/Langley)
Janet Klebe, Skip
Kerri Miller, Third
Laurie Shimizu, Second
Donna Christian, Lead
And the men's competitors are:
Team Kavanaugh (Peace Arch)
Michael James Kavanagh, Skip
Doug Boynton, Third
Rick Reimer, Second
Ed Holland, Lead
Ed Jaehrlich, Alternate
Team King (Kelowna)
Blake King, Skip
David Johnston, Third
Garnet Boese, Second
Jim Stephenson, Leasd
Team VanYzerloo (Castlegar)
Bill VanYzerloo, Skip
Myron Nichol, Third
Garry Beaudry, Second
Richard Faunt, Lead
Team Feltham (Parksville)
Bruce Feltham, Skip
Vern Chang, Third
Oryst Myroniuk, Second
Randy Ohno, Lead
Team Sulz (Parksville)
Carey Sulz, Skip
Rick Dunn, Third
Tom Freeman, Second
Bob Hirschfield, Lead
Team Shimizu (Richmond/Vancouver)
Vic Shimizu, Skip
Paul Dunkin, Third
Wayne Hogaboam, Second
Wayne Saito, Lead
Team Craig (Comox/Duncan/Victoria)
Wes Craig, Skip
Ron Schmidt, Third
Tony Anslow, Second
Victor Gamble, Lead
Blair Cusack, Alternate
Team Sieg (Cloverdale)
Lyle Sieg, Skip
Fred Cleutinx, Third
Brett Kury, Second
Doug O'Byrne, Lead
Good luck and good curling to all!
Subscribe to our newsletter
Receive the latest news updates, tournaments, programs, services and discounts.