New Chair of Curl BC
June 15, 2020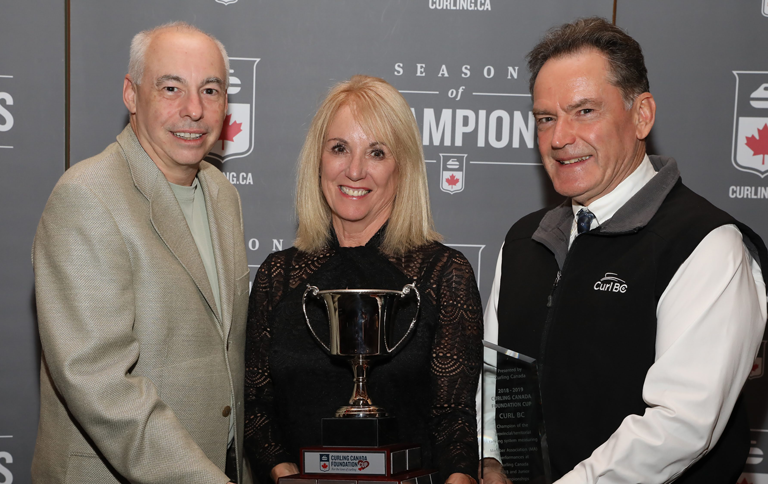 Teri Palynchuk has been elected Chair of Curl BC and will lead the organization's Board of Governors for a one-year term.
Palynchuk has been on the Curl BC Board since 2014 as the Regional Governor for Region 8, 9&10 (Vancouver Island). The Nanaimo curler (pictured above with Past Chair Peter Muir and CEO Scott Braley) has co-chaired and chaired the Competitions Committee since 2016.
The Curl BC AGM was held online on Saturday, June 13. More than 120 people took part – the highest turnout in recent history. Peter Muir, who has been Curl BC's Chair for the past two years and chaired the meeting, finished his term as a Governor at Large, and will now take on the role of Past Chair.
Regional Governor George Horner (Regions 3,4&7) and Governor at Large Janice Mori also finished their terms.
Palynchuk said she looked forward to working with the Board and staff in the year ahead.
Palynchuk said: "While 2020 is not emerging as the year we were hoping for, I am excited to work with our talented Board and equally talented staff to face the current challenges and continue to grow curling in BC. I was extremely pleased to see the impressive turnout to our first virtual AGM and would like to thank all that participated. Stay safe everyone and I hope to see you on the ice soon.​"
Palynchuk was elected by her fellow board members following the AGM. Joining Palynchuk on the Board Executive is Neil Campbell, from Victoria, and Keith Switzer, from Vancouver, as Vice Chairs.
Scott Braley, Curl BC CEO, said: "We would like to thank Peter for his work as Chair and all the hours he volunteered to ensure that we had good governance. We would also like to thank George and Janice for their dedication to the sport over many years. We look forward to working with Teri, Neil and Keith. We know we are in good hands as we face the challenges of Covid-19."
Meanwhile, Brendan Willis of Kelowna and Terry Hawes of Peachland started their terms as Governors at Large. Shaun Everest, also of Kelowna, will begin his term as Regional Governor for Regions 3, 4&7.
Willis is the branch manager of Raymond James in Kelowna and President of Kelowna Curling Club. He was a former High Performance curler and was BC Men's runner-up in 2004 and 2005. He was also BC Junior Men's Champion in 1993, 1994 and 1995.
Willis said: "I've accomplished everything I've set out to accomplish as the President of the Kelowna Curling Club.  This is the natural next step in my progression in making a difference in the sport of curling in BC."
Hawes is a Chartered Professional Accountant based in Peachland, but he was previously based in the Lower Mainland. He is currently serving as a Board member with the Port Moody Police Board, and has worked for numerous other non-profits, including Big Brothers.  He is the father of 2020 BC Women's champion Dezaray Hawes (Team Brown).
Hawes said: "I look forward to working with the Curl BC board to help promote, develop and support curling in BC."
Everest is a real estate agent with marketing, business administration and financial planning experience. Everest said: "I am excited to join the Curl BC Board. As the new Governor for Regions 3, 4 & 7 my main contribution will be to increase the flow of information between Curl BC and its member clubs and curlers and give Curl BC more of a face out in the field and help shape the direction of this great sport throughout the province."
The AGM was an opportunity for members to keep up-to-date with how the organization is faring. It was also a great opportunity to hear about the latest developments in Return to Curling Guidelines.  The online meeting also featured an update from our partners at Curling Canada. A recording of it has been posted to YouTube here.
Subscribe to our newsletter
Receive the latest news updates, tournaments, programs, services and discounts.