Open Qualifiers sends a slate of teams to 2023 BC Scotties and BC Men's championships
December 12, 2022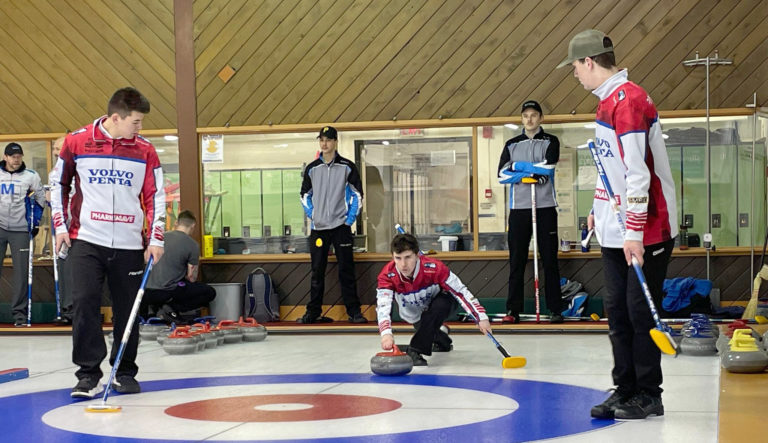 The BC Open Qualifiers, which took place at the Delta Thistle Curling Club this past weekend, have set the stage for the 2023  BC Scotties, Presented by Best Western and BC Men's Championships, taking place in Chilliwack, BC on January 10th-15th, 2023.
The event saw seven women's teams and ten men's teams in a battle royale for one of the final berths in BC Curling—a trip to the Scotties or BC Tankard. The qualifying events featured U21, Women's, Men's, Seniors and Masters teams, using this event to prepare for their own age-specific BC Championships while trying for one of the five men's berths and four women's berths that were on the line in Delta.
The women's competition saw some great sportsmanship and exciting play. In the "A" Qualifier, Team Ryan (Kristen Ryan, skip; Megan Daniels, third; Kirsten Fox, second; and Dawn Mesana, lead) of the Golden Ears Winter Club was triumphant, and punched their ticket to the Scotties in Chilliwack next month.
In the "B" Qualifier, Team Reese-Hansen (Taylor Reese-Hansen, skip; Megan McGillivray, third; Cierra Fisher, second; and Sydney Brilz, lead) of the Victoria and Kamloops curling clubs took the top prize.
The women's "C" Qualifier had two berths to award. The first went to Team Cowan (Sheilla Cowan, skip; Sandra Comadina, third; Stephanie Kask, second; and Christine Matthews, lead) of Royal City Curling Club and the Vancouver Curling Club. The second went to Team Wark (Sarah Wark, Skip; Kristen Pilote, third; Karla Thompson, second; and Amanda Brennan, lead) of the Abbotsford Curling Club, the Kamloops Curling Club, and the Prince George Golf and Curling Club.
On the men's side, the "A" Qualifier saw Team Montgomery (Jason Montgomery, skip; Chris Baier, third; Miles Craig, second; and William Duggan, lead), of the Victoria Curling Club, took the top spot.
The men's "B" Qualifier produced two berth winners: Team Medford (Chris Medford, skip; Steve Tersmette, third; Mitch Young, second; and Blair Jarvis, lead) of the Kimberley and Cranbrook curling clubs; and Team Joanisse (Dean Joanisse, skip; Brendan Willis, third; Neil Cursons, second; and Grant Dezura, lead) of the Golden Ears Winter club.
Two men's teams also won berths in the "C" Qualifier: Team Cotter (Jim Cotter, Skip; Grant Olsen, third; Andrew Nerpin, second; and Rick Sawatsky, Lead) of the Vernon, Kelowna, and Kamloops Curling Clubs; and Team Fenton (Adam Fenton, skip; Alex Duncan-Wu, third; Chris Parkinson, second; and Matthew Fenton, lead) of the Royal City and Comox Valley curling clubs.
Last year's men's champions, Team Brent Pierce, receive an automatic Defending Champion berth (last year's women champions, Team Mary Anne Arsenault, are not playing this time around).
Previously, five berths to the provincial championships were awarded to CTRS leaders:
Women's #1 CTRS Berth – Team Clancy Grandy
Women's #2 CTRS Berth – Team Corryn Brown
Men's #1 CTRS Berth – Team Jacques Gauthier
Men's #2 CTRS Berth – Team Paul Cseke
Men's #3 CTRS Berth – Team Sebastien Robillard
And five berths were awarded through the BC Curling Tour:
Women's #1 BC Curling Tour Berth – Team Diane Gushulak
Women's #2 BC Curling Tour Berth – Team Shawna Jensen
Men's #1 BC Curling Tour Berth – Team Cameron de Jong
Men's #2 BC Curling Tour Berth – Team Cody Tanaka
Men's #3 BC Curling Tour Berth – Team Sean Geall
The 2023 Scotties BC Women's Curling Championship, presented by Best Western, and the 2023 BC Men's Curling Championship will take place from January 10th to 15th, 2023, at the Chilliwack Curling Club. Tickets are available at https://www.eventbrite.ca/e/2023-bc-scotties-presented-by-best-western-and-2023-bc-mens-tickets-429920964177
Subscribe to our newsletter
Receive the latest news updates, tournaments, programs, services and discounts.