On to Vernon! Youth curling teams now set for BC Winter Games
January 23, 2023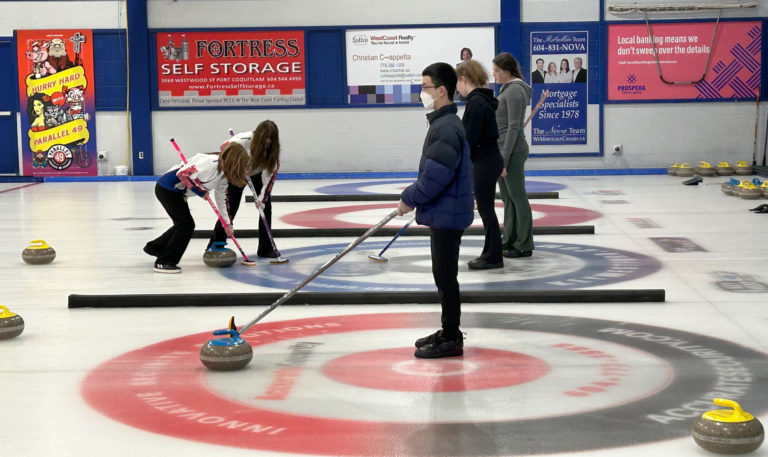 This past weekend, an exciting flurry of zone qualifiers decided a number of teams who will play at the BC Winter Games in Vernon from March 23 to 26, 2023.
At the Enderby Curling Club, Teams Ava Arndt and Megan Rempel secured their Zone 2 girls' spots at the Games, after a five-draw battle which also included Team Miranda Allen. Team Arndt's members are Ava Arndt, skip; Bethany Evans, third; Ivy Jensen, second; and Alicia Evans, lead, and David Arndt, coach. Team Rempel is made up of Megan Rempel, skip; Parker Rempel, third; Gwyneth Jones, second; Ella Walker, lead, and Brian Lyall, coach.
The Royal City Curling Club, in New Westminster, saw both boys' and girls' matches for the Zone 5 qualifiers, with Team Erin Fitzgibbon punching their ticket to the games after defeating Team Cathy Yip in two games. Team Fitzgibbon's roster is Erin Fitzgibbon, skip; Alexandria Halliday, third; Brooke Halliday, second; Sydney Taylor-Hunt, lead; and Brian Fitzgibbon, coach.
On the boys' side at Royal City, Team Matthew Moi is also heading to the Games, after overtaking Team Aydan Wong. Team Moi is made up of Matthew Moi, skip; Trevor Roberts, third; Kyle Jung, second; Michael Yan, lead; and Ross Graham, coach.
Over at the Cowichan Rocks Curling Club, in Lake Cowichan, Team Brent Buckham and Team Liam Shelin battled it out for the Zone 6 boys' qualifier spot, with Team Buckham winning two straight games and a spot in Vernon. The members of Team Buckham are: Brent Buckham, skip; Sampson McNeill, third; Jaxon Bjornson, second; and Lenard Stewart, coach.
Many thanks go to the three clubs which hosted the qualifiers with such enthusiasm and professionalism, as well as the chief umpires at each location— David Walker (Enderby), Dave Shortill (Lake Cowichan), and Troy Matsumiya (Royal City).
Young curlers participating in these qualifiers were helped immeasurably by the Mentorship Development Team of Barn Zbeetnoff and Logan Miron, who helped make a weekend of learning and fun for both the players and their coaches. These qualifiers are also notable for being the first to use the new coach interaction rule, which allows coaches more convenient and frequent access to their teams during game play.
The Games will see up to 1,800 participants age 16 and under competing across 17 different winter sports including curling.
The teams who have already received direct entries to the games are:
Zone 1
Girls' Team – Team Bartlett
Boys' Team – Team Reynolds
Zone 2
Boys' Teams- Team Jaeger and Team Beck
Zone 3
Girls' Teams – Team Andrews
Boys' Teams – Team Wardroper
Zone 4
Girls' Teams – Team Norrington
Boys' Teams – Team Chiu
Zone 7
Girls' Teams – Team Feduniak
Zone 8
Girls' Teams – Team Jones
Boys' Teams – Team Wilson
Subscribe to our newsletter
Receive the latest news updates, tournaments, programs, services and discounts.