October Draw of Curl BC Monthly 50/50
October 17, 2023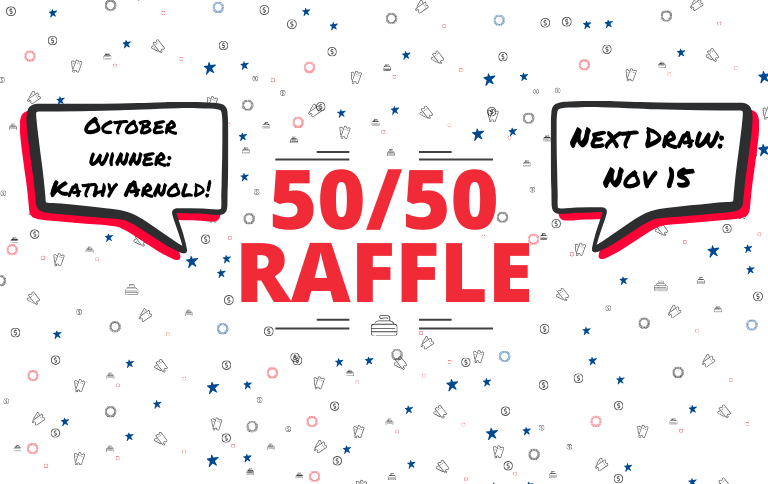 This season's first draw of the Curl BC Monthly 50/50 Raffle is in the books!
Congratulations to Kathy Arnold from Kamloops for winning a fantastic prize of $4,810 from a prize pot totaling $9,620! She shared her joy saying that "I was so surprised when I got the news, I couldn't believe it!" Kathy, a curler for more than 60 years and a volunteer scorer at Vancouver 2010, chose Kamloops Curling Club as the beneficiary.
This draw has benefitted 63 member facilities and affiliated associations. A special shoutout to the top 10 in ticket sales:
Kelowna – $770 from 36 sales
Comox Valley – $650 from 19 sales
Delta Thistle – $540 from 14 sales
Kerry Park – $530 from 20 sales
Merritt – $330 from 15 sales
Port Moody – $300 from 13 sales
Mission – $270 from 10 sales
Dawson Creek – $270 from 3 sales
Kamloops – $260 from 14 sales
Chilliwack – $260 from 9 sales
And congratulations to the following clubs for winning the Facility Draw:
Fraser Lake Curling Club – Belairdirect Insurance $100 gift certificate
Princeton Curling Club – Best Western Hotels $100 gift certificate
Esquimalt Curling Club – Salt Spring Coffee gift basket valued at $100
If luck wasn't on your side this time, click here and give it another chance in the draw of the Curl BC Monthly 50/50 raffle on November 15.
Remember, not only are you in with a chance to win, but your contribution directly impacts your local curling club.
Good luck and good curling!
Subscribe to our newsletter
Receive the latest news updates, tournaments, programs, services and discounts.