November Draw of Curl BC Monthly 50/50
November 15, 2023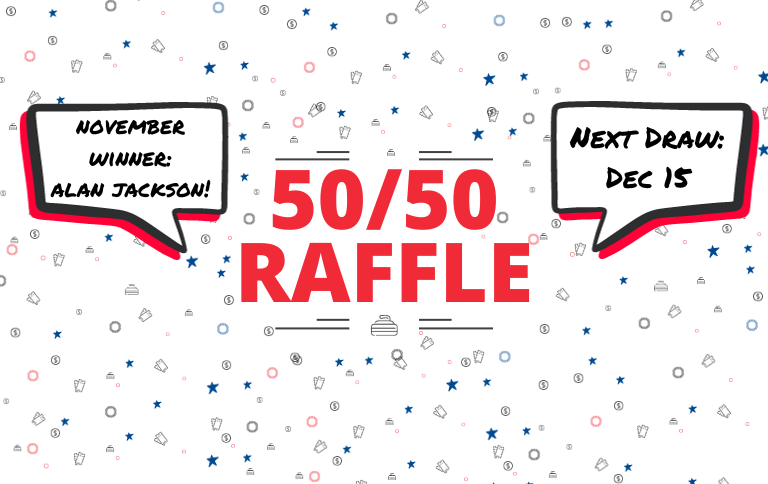 The November draw of the Curl BC Monthly 50/50 Raffle is in the books!
Congratulations to Alan Jackson from Cobble Hill for winning a fantastic prize of $16,670 from a record-breaking prize pot totaling $33,340!
He shared his joy saying that "It was an amazing surprise! I have never won anything! But the more important thing is to support our local curling facilities. I encourage everyone to do the same. My daughter is getting married soon so this prize will help fund the wedding." Alan chose Kerry Park Curling Club, where he has been curling for 8 years, as the beneficiary.
This draw has benefitted a record-breaking 72 out of 91 member facilities and affiliated associations. A special mention to the top 10 in ticket sales:
Terrace Curling Club – $2,820
Dawson Creek Curling Club – $2,750
Kelowna Curling Club – $2,090
Optimist Junior Interclub Curling League – $1,740
Kamloops Curling Club – $1,630
Fort St. John Curling Club – $1,620
Qualicum & District Curling Club – $1,500
Chilliwack Curling Club – $1,390
Kerry Park Curling Club – $1,170
Chetwynd Curling Club – $960
And congratulations to the following clubs for winning the Facility Draw:
Golden Ears Winter Club – Belairdirect Insurance $100 gift certificate
Parksville Curling Club – Best Western Hotels $100 gift certificate
Enderby & District Curling Centre – Salt Spring Coffee gift basket valued at $100
If luck wasn't on your side this time, click here and give it another chance in the draw of the Curl BC Monthly 50/50 raffle on December 15.
Remember, not only are you in with a chance to win, but your contribution directly impacts your local curling club.
Good luck and good curling!
Subscribe to our newsletter
Receive the latest news updates, tournaments, programs, services and discounts.