New coach interaction rules come to U18, U21, and CWG for 2023
October 07, 2022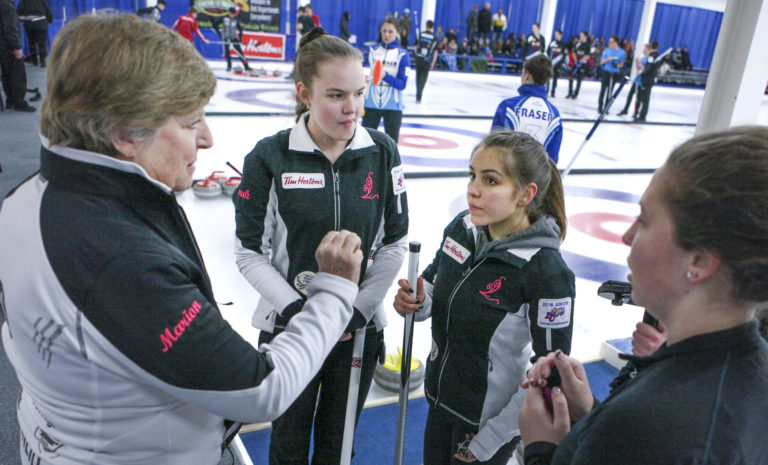 Curl BC is pleased to introduce a new coach interaction pilot program for our U18, U21, and CWG competitive categories in 2023, which will allow coaches more convenient and frequent access to their teams during game play in Curl BC youth events.
This pilot program has been tried in a number of provinces so far, including BC on the BC Junior Curling Tour. Over the next year, these new coach interactions will replace the traditional time-outs that we have been using in the past.
Special thanks go to CURLSASK for leading this initiative, and to Helen Radford, Curling Canada's Manager of Youth Curling and NextGen, who took it national.
Curl BC's Competitions Manager, Will Sutton, says "it will be vital for member facilities with youth programs, bonspiels and leagues at the U9, U12 and U15 stage of development to pilot coach interactions as well. Please connect with Curl BC for more information on implementing this pilot program across the earlier stages of the long-term curler development pathway."
The program works by giving coaches ice-level access, allowing for a more advantageous position to view the game, listen to their team's conversations, and offer helpful advice.
For full rules and more information, please see:
https://www.curlbc.ca/wp-content/uploads/2022/10/Curling-Canadas-Coach-Interaction-Rules-2023-Pilot-year.pdf
Through increased communication this pilot program will help teams gain the advice and better understand teachable moments, and it will allow coaches to better support their team's performance and development. As an outcome, Curl BC expects to see not just improvements in our athletes' performance on the ice, but in our coaches and their satisfaction as they become more involved in the game itself.
Subscribe to our newsletter
Receive the latest news updates, tournaments, programs, services and discounts.