National juniors set to start in Langley
January 15, 2020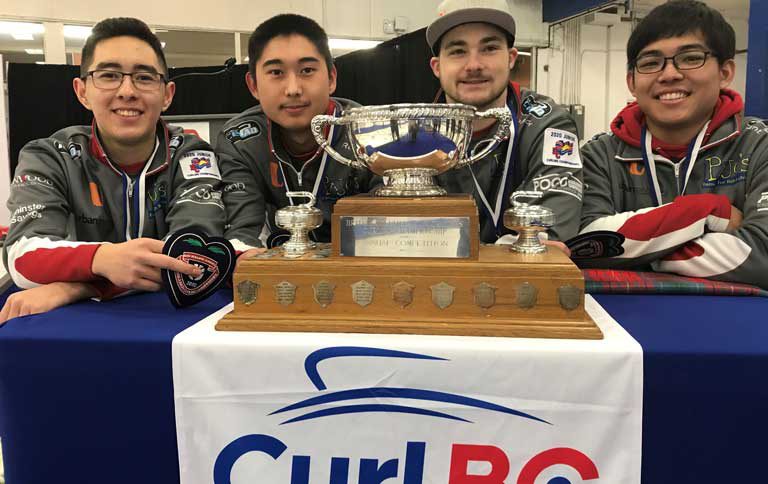 Canada's best Under-21 curlers are headed to Langley this week to take part in the 2020 New Holland Canadian Junior Curling Championships.
The 2020 New Holland Canadian Juniors will begin Saturday and run through to Jan. 26 at the George Preston Recreation Centre and Langley Curling Club.
And there will be no shortage of intriguing storylines as Canada's future stars battle for the right to represent Canada at the 2020 World Junior Curling Championships, Feb. 15-22 in Krasnoyarsk, Russia.
In competition for the junior women will be Team Buchy who hail from Kimberley, Vernon and Kelowna. The foursome is made up of skip Kaila Buchy, third Jaelyn Cotter, second Katelyn McGillivray, lead Cassidy Schwaerzle, alternate Samantha Maclaren and coach Tom Buchy.
In competition for the junior men are two B.C. teams, Team BC and the host team. This is because Nunuvat withdrew from the competition, freeing up a space for a second B.C. team. Team Sato, as the winners of the BC Junior Curling Championships, will wear the BC crest. Skip Hayato Sato and second Joshua Miki are last year's Canada Winter Games champions. They are joined this season by third Matthew McCrady and lead Jacob Umbach, and coached by 2000 men's world champions Brent Pierce and Bryan Miki.
The host team of skip Johnson Tao, third Toby Mills, second Connor Kent and lead Michael Nunn will be coached by Vic Shimizu, a Canadian Curling Club Champion from 2018.
There are some interesting storylines from the other provinces. Karlee Burgess has a chance to make history as the first female player ever to win three times at the New Holland Canadian Juniors, but she'll be doing it for a new province this year.
Burgess, who won Canadian and World Junior gold playing second for Nova Scotia (in 2016 with Mary Fay, and two years later playing for Kaitlyn Jones), moved to Manitoba in the off-season and will be playing vice-skip for Manitoba's Mackenzie Zacharias (Altona) in her final year of junior eligibility. Burgess was a bronze-medallist at the 2019 New Holland Canadian Juniors with Nova Scotia. Also moving to Manitoba was Lauren Lenentine, who played vice-skip for Nova Scotia last year, and was the alternate for Team Jones at the 2018 World Juniors.
Alberta, meanwhile, will go for back-to-back gold medals with two members of Selena Sturmay's Edmonton team that prevailed last year in Prince Albert, Sask., remaining.
Abby Marks has moved from vice-skip to skip, while second Paige Papley moves up from lead.
Also in the field is 2017 Canadian Under-18 champ Kira Brunton and her Northern Ontario team from Sudbury.
On the men's side, meanwhile, there will be a new champion for the first time since 2016 as three-time defending champion Tyler Tardi of B.C. has moved up to the men's ranks.
That will open the door for the likes of Northern Ontario's Jacob Horgan, a two-time silver-medallist playing for his older brother Tanner. Jacob, who skipped Northern Ontario to the 2017 Canadian Under-18 championship, is skipping at the Under-21 nationals for the first time, and will be making his seventh appearance at the event with his Sudbury-based team.
Also in the mix on the men's side will be Tardi's cousin Jacques Gauthier, who's skipping Manitoba #2. Gauthier, whose team is based in Winnipeg, played vice-skip for JT Ryan's Manitoba team that lost the 2019 gold-medal game to Tardi's B.C. team in Prince Albert, Sask., and was also the alternate for Tardi's Canadian team that won gold at the 2018 World Juniors in Aberdeen, Scotland.
Meanwhile, Saskatchewan's Rylan Kleiter (Saskatoon) will be aiming to improve on the bronze medal his team won last year in Prince Albert, while Nova Scotia's Graeme Weagle (Chester) looks to add to the gold medal he won at the 2018 Canadian Under-18 Championships.
Gauthier's team goes in as Manitoba #2 after losing the provincial final to Brett Walter; both the Walter and Gauthier teams hail from the Assiniboine Club in Winnipeg.
Selected round-robin games from the New Holland Canadian Junior Championships will be streamed live at Curling Canada's YouTube page, which you can access by CLICKING HERE.
B.C. teams have won a combined 10 Canadian junior championships — the most recent being Tardi's team representing the Langley Curling Centre winning in 2017 at Victoria, 2018 at Shawinigan, Que., and last year at Prince Albert. Other previous winners were Corryn Brown in 2013 at Fort McMurray, Alta., Brad Kuhn in 2000 at Moncton, N.B., Dean Joanisse in 1989 at Winnipeg, Mike Wood in 1988 at North Vancouver, Julie Sutton in 1987 at Prince Albert, Jodie Sutton in 1986 at Rouyn-Noranda, Que., Sandra Plut in 1982 at Winnipeg and Jerry Laughlin in 1961 at Prince George.
Teams that don't qualify for the Championship Pool will compete in a Seeding Pool to determine rankings for the 2021 New Holland Canadian Juniors, March 15-23 in Fort McMurray, Alta. Curlers on all non-playoff teams will participate in a mixed doubles competition on the final weekend.
The Canadian Junior Men's Championship has been contested annually since its inception in 1950 at Quebec City. The first Canadian Junior Women's Championship was played in 1971 at Vancouver.
For event information, visit www.curling.ca/2020juniors.
Subscribe to our newsletter
Receive the latest news updates, tournaments, programs, services and discounts.