Montgomery, Kleibrink, Hafeli & Dennis Qualified for BC Championships
October 31, 2023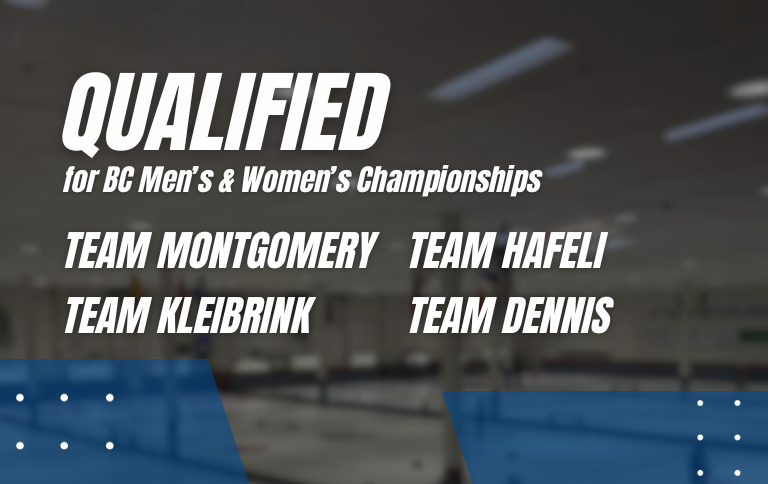 In a thrilling display of precision and skill, Team Montgomery clinched victory in the men's event of the King Cash Spiel, held at the Golden Ears Curling Club. They secured their berth to the  BC Men's Championship with an impressive 8-2 win over Team Richard in the final.
On the women's side, Team Hafeli emerged victorious in an extra-end game against Team Dennis, earning a berth to the Scotties BC Women's Championship, presented by Best Western. The narrow 6-5 victory solidified their place among the province's elite curling teams.
The excitement continued at the Crown of Curling tournament held at the Kamloops Curling Club, where Team Dennis showcased exceptional resilience. Despite a valiant effort in the final, they were edged out by Team Brown with a final score of 5-6. However, due to Team Brown's prior qualification, Team Dennis secured a well-deserved berth to the Championship.
In the men's event, Team Kleibrink gained their berth to the BC Championships by reaching the final and losing to Team Pierce, who have already qualified, with a score of 3-7.
We look forward to the upcoming Island Shootout at Victoria Curling Club, slated to run from November 10 to 13. Live scores for the event can be tracked here.
For the schedule of the BC Curling Tours, including upcoming events and dates, please visit:
For detailed information on the qualification processes for the BC Men's and Women's Championships, please visit:
The BC Curling Tour was funded in part by a grant from viaSport BC and the Province of British Columbia.​
Subscribe to our newsletter
Receive the latest news updates, tournaments, programs, services and discounts.