Mixed Doubles wraps up
March 26, 2021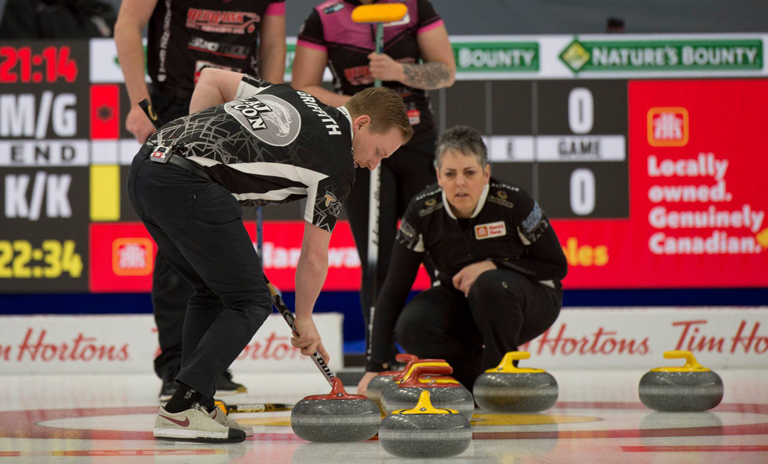 Kerri Einarson and Brad Gushue were crowned Canada's Mixed Doubles champions at the 2021 Home Hardware Canadian Mixed Doubles Championship, presented by Nature's Bounty, on Thursday.
Einarson and Gushue (Gimli, Man./St. John's, N.L.) rolled to a 9-6 win over Kadriana Sahaidak and Colton Lott (Winnipeg Beach, Man.) in the gold-medal game — the first time two full-time skips in four-player competition have ever combined to win the Canadian mixed doubles title.
It marked the end of the Canadian championships in the bubble in Calgary – but there is still two Grand Slams and the World Men's and Women's championships to go.
None of the curlers from BC who took part in the mixed doubles event advanced beyond pool play – but it was close.
Team Martin/Griffith, with Nancy Martin from Saskatchewan and Kelowna's Tyrel Griffith, were 4-1 going into their last game, but unfortunately dropped the game against Laura Walker and Kirk Muyers and fell to second place in their pool which was enough to stop them from advancing.  In a post on social media following the game Team Martin/Griffith said: "We are super proud of how we played and enjoyed every minute of every game. We wanted to say thank you to our friends, family and fans for your support while we attended the mixed doubles championship."
Team BC, made up of Stephanie Jackson-Baier and Corey Chester, finished pool play with a 1-5 record. Meanwhile, Team Hawes/Tardi, with Dezaray Hawes and Tyler Tardi, finished with a 2-4 record.
You can read more about the event here: https://www.curling.ca/2021mixeddoubles/
Subscribe to our newsletter
Receive the latest news updates, tournaments, programs, services and discounts.